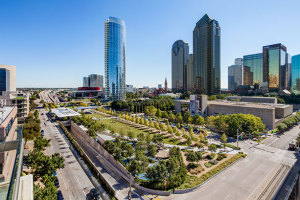 My parents grew up in Lewisville, Texas, 24 miles north of Dallas, in the early 1900s. "Big D," then a city of 150,000, was their magnet. My Dad always said that Dallas had the best-looking women. When Steve and I married in June, 1966, our first home was in Dallas, where he worked for Texas Instruments. By then the population had grown to 680,000. That fall, we moved to Cambridge MA, where I took a job with a book publishing company as a receptionist, despite my thick Texas accent. I soon became aware that two women in the office were not at all friendly–frosty, in fact. Both were Catholic. Eileen was Irish; Jenny, Italian. Eventually, our boss noticed the tension and sent us out to lunch together. When talk turned to politics, I voiced my admiration for John Kennedy and my horror at his death just three years before. They were startled. Suddenly, I realized that they had stereotyped me as a Dallas fanatic and essentially, held me responsible for the assassination of their beloved President! I explained that I had lived in Dallas less than three months and that I, too, had been devastated by that tragedy. At last, the ice broke. Jenny and Eileen began to see Martha as an individual with whom they could work.
By the time my daughter Shelby and her new husband Sean moved to Dallas in 2004, its population had doubled, but its reputation still suffered. Sometimes, when I mention traveling to Dallas, friends in DC start to commiserate. I forestall their type-casting by noting that Dallas is full of amazing parks, great museums, vibrant musical institutions and interesting individuals. Its problems are no greater than those of any other city, less than most. Last Sunday I attended the Dallas Unitarian Universalist Church with Shelby's family. It's practically next door to the Dallas Country Club, which recently admitted its first black member. The UUC congregation was refreshingly diverse and active in advocating for social justice. Chatting with a member after the service, I observed "What a refuge this church must be in such a conservative city."
"Oh," he replied, "don't put down the Southern Baptists. They are the first to help when there are refugees from hurricanes or children on the border. They hand out food and money with open hearts." Actually, I hadn't mentioned Southern Baptists, but I realized that 48 years after having my Texas origins disparaged in Massachusetts, I myself was guilty of making a false generalization about Dallasites. Had I not learned how hurtful that is?
Now Dallas has a new image problem. The hospital where my oldest grandchild was born really fumbled how it handled a patient with Ebola. This past week, whenever I said that I had just flown home from Dallas, people instinctively stepped back, as though I could be carrying the virus. How can thoughtful citizens avoid the contagion of stereotypes?
An article in the New York Times (Travel section, November 16) suggests that Klyde Warren Park, pictured above, may be changing Dallas' view of itself.  "Since Klyde Warren Park opened in October 2012 — the fruit of a $110 million public-private partnership constructed on top of a former epic eyesore, the overpass of the eight-lane Woodall Rodgers Freeway, as a green corridor linking the city's uptown and arts districts — it has quickly become one of the biggest draws in Dallas and, in the process, an eco-friendly shredder of stereotypes."
Addendum, July 15, 1963: article in today's New York Times shows how Dallas has changed since the 1960s.