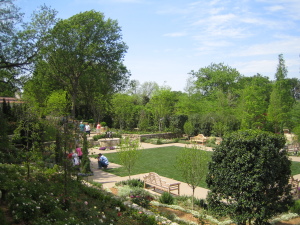 In October I visited Arboretums in Dallas and Boston, after previously seeing the National Arboretum in DC. All were beautiful, but I was struck by their contrasting visions. The Dallas Arboretum, a "dot-org" owned by the City of Dallas and run by a non-profit society, was established in 1976 from two estates totaling 66 acres on the shores of White Rock Lake. It opened to the public in 1984. It is just 10 minutes from the homes of my daughter Shelby and of my niece Patti. Its mission: "to build and maintain a public venue that promotes the art, enjoyment and knowledge of horticulture, while providing opportunities for education and research."
The emphasis seems to be on enjoyment, with a Children's Adventure Garden, summer camps, a fall Pumpkin Patch, a Twelve Days of Christmas display and a springtime extravaganza, Dallas Blooms, with more than 500,000 bulbs, 3,000 azaleas and thousands of other annuals and perennials. The Arboretum has a 75 member Board of Directors, 135 full-time paid staff members, 32 part-time paid staff members, and more than 800 active volunteers. In several visits, I have enjoyed lunches in two of its four restaurants (one with a live pianist!) and purchased lovely items in its large gift shop. Admission at the gate is $15 for adults, $12 for seniors, and $10 for children 3 to 12, plus $10 for parking. Here are photos from my October 10 visit with my friend Phyllis Minton, well-known for her knowledge of and expertise with plants.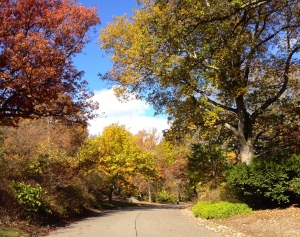 Three weeks later, Steve and I visited the much older Arnold Arboretum in Boston for the first time. Planting began in 1872 under the direction of famed landscape architect Frederick Law Olmsted, as part of Boston's Emerald Necklace of green spaces. With 281 acres, it is more than four times as large as the one in Dallas. It has no restaurant, no gift shop and no admission fee. We were lucky to find free parking on the street on a Thursday morning; their website strongly recommends public transportation. The Arnold Arboretum is a "dot-edu," a partnership between Harvard University and the City of Boston. Its mission is "to discover and disseminate knowledge of the plant kingdom to foster greater understanding, appreciation, and stewardship of Earth's botanical diversity and its essential value to humankind." Its only annual event is "Lilac Sunday," when the lilacs planted by Olmsted himself are in bloom. The Arnold Arboretum's living collection of trees, shrubs, and woody vines is recognized as one of the most comprehensive and best documented of its kind in the world. The living collection is supported by comprehensive curatorial documentation, herbaria containing more than 1.3 million specimens, extensive library and archival holdings, and a large state-of-the-art research center. These facilities and holdings, along with 75 full-time staff, provide the basis for research and education by Harvard faculty and students, Arboretum scholars, and visiting scientists from around the world. Here are the wonderful scenes Steve and I enjoyed on October 30.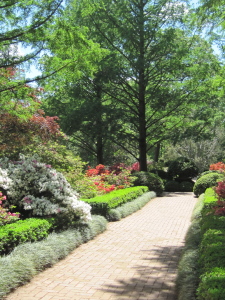 In May 2011 my friend Carol Starr and I visited the National Arboretum in Washington DC.  Established in 1927, it is a "dot-gov," administered by the U.S. Department of Agriculture. Its mission is "to serve the public need for scientific research, education, and gardens that conserve and showcase plants to enhance the environment." With 446 acres and 9.5 miles of roadways, it is by far the largest of the three arboretums. Admission is free, but the grounds are open only Friday through Monday, allowing for mid-week cultivation and maintenance. There is a small gift shop, but no restaurant. Among its events are Full Moon evening hikes and wreath-making workshops. Carol and I were lucky to be there when the azaleas and rhododendrons were in full bloom. Here are the pictures I took.
All three of these institutions have arbor (Latin for tree) in their titles, but each interprets "treemanship" (my word) differently. The Dallas Arboretum, the youngest and smallest, is full of enhancements–weekly concerts, exuberant seasonal celebrations, and annual art installations like one by Chihuly in 2012. It seems to attract more people; maybe they are just concentrated into less space. The larger, more traditional National and Arnold Arboretums focus on botanical research, and are calmer. Like Dallas, they also offer lovely vistas to thousands of visitors each year.
Why do I love trees so much? Is it because trees were scarce in my West Texas childhood? Perhaps Herman Hesse can answer for me (from his Trees: Reflections and Poems).
For me, trees have always been the most penetrating preachers. I revere them when they live in tribes and families, in forests and groves. And even more I revere them when they stand alone. They are like lonely persons. Not like hermits who have stolen away out of some weakness, but like great, solitary men, like Beethoven and Nietzsche. In their highest boughs the world rustles, their roots rest in infinity; but they do not lose themselves there, they struggle with all the force of their lives for one thing only: to fulfill themselves according to their own laws, to build up their own form, to represent themselves. Nothing is holier, nothing is more exemplary than a beautiful, strong tree. When a tree is cut down and reveals its naked death-wound to the sun, one can read its whole history in the luminous, inscribed disk of its trunk: in the rings of its years, its scars, all the struggle, all the suffering, all the sickness, all the happiness and prosperity stand truly written, the narrow years and the luxurious years, the attacks withstood, the storms endured. And every young farmboy knows that the hardest and noblest wood has the narrowest rings, that high on the mountains and in continuing danger the most indestructible, the strongest, the ideal trees grow.
Do you have a favorite tree place? Please comment below.