DC Travels: Gems & Butterflies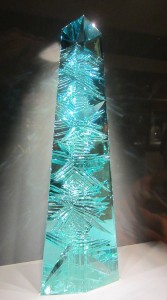 Yesterday my friend Ann and I visited the Smithsonian Museum of Natural History to see the newly-exhibited Dom Pedro aquamarine. A story in the Post had piqued my interest. It's a beauty, equal to the famous Hope diamond nearby.
The Museum is showing a new 3-D IMAX movie, "Flight of the Butterflies," that chronicles the lifelong passion of Dr. Fred Urquhart to discover the complete life cycle of Monarch butterflies. These butterflies have the longest migration of any creatures–from the Sierra Madre mountains of Mexico through the Texas Hill Country to Canada. This short trailer may entice you to see the 45-minute film. It was so real that the school children all reached out for the butterflies. In her novel, Flight Behavior, Barbara Kingsolver imagines how the Monarchs' flight paths could be altered by climate change.