On January 20, our ship reached Aqaba, Jordan's only seaport. It's at the northern end of the Gulf of Aqaba, where Egypt, Israel, Jordan and Saudi Arabia all converge. Our expert Jordanian guide, Khaled Alomar, met us at the port and escorted us a short distance to one of the wonders of his country, Wadi Rum (valley of sand, in Arabic), a protected desert wilderness. It was a scene straight out of the tenth best movie of all time:
We promptly mounted camels and rode to a Bedouin camp. Great fun!
This slideshow requires JavaScript.
Lunch was quite a production. A buried pot contained delicious slow-cooked chicken and vegetables. I still remember the aroma. Riding camels makes you hungry!  Over lunch, we met a family from Palo Alto CA. The father was on a 10-month sabbatical from Google. He, his wife, and daughters, 11 and 13, were traveling around the world and had their own Jordanian guide. We saw them again when we checked into the Mövenpick Hotel in Petra.
From Wadi Rum to Petra, we traveled the King's Highway, since Roman times a trade route connecting Cairo, Aqaba, and Damascus. At elevations above 5,000 feet, we saw traces of snow. The rocky soil was occasionally planted in wheat or barley. I was happy to see a few wind turbines and at least one array of solar panels. I was unhappy to see almost as much trash along the highway as we had seen in Egypt.
Khaled introduced us to Jordan as we rode in comfort, drinking bottled water. "Jordan resists violent solutions." he declared, "but faces many challenges." Jordan has absorbed millions of Syrian and Yemeni immigrants in the last ten years. Because these newcomers were so concerned about "protecting" their young daughters, Jordan even amended its law to permit 14-year-olds to marry, a backward step for a country that emphasizes free higher education for women. Smoking, especially by teens, is on the increase. Taxes are up, incomes are down. Violent crimes now happen within families, an unprecedented trend.
Jordan is ruled by the Hashemite Royal Family. Queen Rania is an avid advocate for women's rights, but is said to fly her hairdresser in from France each week. King Abdullah II, son of King Hussein and Queen Noor, speaks English well, but Arabic badly. In North Jordan, the elderly are respected, always. Men give their seats to women on public transport. In South Jordan, unemployment, poverty, and drugs are serious problems. Eighteen-year-olds must get a "Good Manners" certificate from the Intelligence service in order to enter university.
Despite all these difficulties, I was aware that Jordan had a rich cultural heritage. Several years ago at the Kennedy Center in Washington, I had seen Queen Noor introduce a troupe of dancers who were quite accomplished. It was a delight on our first night in Petra to hear the Ma-an Band of Popular Folklore. Before the dancing started, I made a brief recording of the oud player.
Then the dancing began. The troupe got almost all of us to dance. It was way too loud, but joyous.
This slideshow requires JavaScript.
Earlier that evening Marjo and I had visited the excellent museum at the Petra Visitors' Center and learned that Petra was named a UNESCO World Heritage Site in 1985. In 1993 the Petra Archeological Park was established within an area of 264 square kilometers. Khaled told us that only 15% of that area has been excavated. In 2007, online voting named Petra one of the New Seven Wonders of the World. Did it feel as special to me as the Great Wall of China had in 2006? Yes, indeed. The amazingly efficient water system and the artistic/organizational feat of carving all that sandstone inspired awe. Approaching the heart of the city by foot through a narrow passage called The Siq heightened our anticipation. Look at these photos and you'll see what I walked seven miles to see. Yes, many moments of wonder and exaltation.
This slideshow requires JavaScript.
Petra was established by the Nabataeans as the capital of their kingdom around 300 BCE. It was strategically located on the Silk Road and North-South trade routes. Two main elements made them successful:  advanced water systems and an aptitude for trade. For example, Nabataeans traded local tin and copper for myrrh and frankincense from the south (an ounce of frankincense then was worth an ounce of gold today).
Romans forced the Nabataeans to surrender in 106 CE. Petra's importance declined as sea routes competed and a 363 earthquake destroyed many structures. During the Byzantine Era several Christian churches were built. By 700, the city was abandoned. It remained unknown until it was rediscovered by Swiss explorer Johann Ludwig Burckhardt in 1812. El Kazneh, the Treasury, is Petra's most impressive surviving carved building. It dominates the largest central gathering area in Petra. But we also found many interesting places further on.
This slideshow requires JavaScript.
By the time we had hiked up a hill to see the Petra Church and its lovely mosaics, we were a bit tired and opted to ride donkeys back to the Treasury. What a day! What more could Jordan offer? Plenty.
On January 22, we visited the Moses Spring, the source of Petra's water, and St. George's Church in Madaba. Seven of us were treated to lunch with the Zawadieh family in Madaba. Reme, the mother, served delicious Chicken Ouzi (see recipe* below). Her husband Jacob was assisting at a conference at the 1880 Madaba Hotel. Son Sady, 13, and daughter Saly, 8, helped their mother serve and clean up. Sady plays soccer and basketball and wants to be a doctor. Saly is in the third grade (like Violet) and wants to be an engineer.
This slideshow requires JavaScript.
Following this delicious meal, we ascended to the summit of Mount Nebo, where, according to Deuteronomy 34: 4, the Lord said to Moses:
This is the land of which I swore to Abraham, to Isaac, and to Jacob, saying, 'I will give it to your descendants': I have let you see it with your eyes, but you shall not cross over there.
Thus, the Biblical promise of a land for Abraham's descendants was reaffirmed. It still echoes through international relations. Let me ponder: isn't anyone who follows the Islamic, Jewish or Christian faith a descendant of Abraham? I feel that I am. If only we could all peacefully share our rich Near East heritage. Then surely, we could also find much in common with faith traditions from the Far East. Well, I can dream.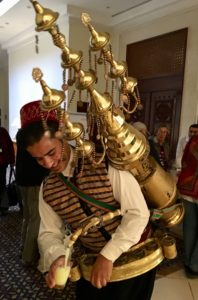 From Mount Nebo, we plunged to 1400 feet below sea level to the Dead Sea, the lowest place on earth–my ears popped! At the Mövenpick Dead Sea, another lovely Swiss hotel, we were welcomed with a refreshing drink.  I should have grabbed my suit and plunged into the salty sea then, but I opted to hear a speaker the tour guides had engaged. Nadia Salah is a teacher at the Amman International School. Many of her relatives are tour guides. Her second husband is a dentist. She told us about her life as a working mother. Women are only 16% of  Jordan's workforce. Women first got to vote in 1974; there are now 19 women in Parliament. She complained that women do everything for men and that she gets little support from her husband and stepson. "Men neither realize nor appreciate what women do." I asked about gays; her answer indicated minimal acceptance.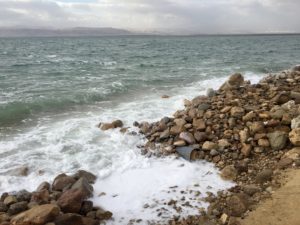 The next day was cold and windy. The Dead Sea was full of whitecaps, so beach access was restricted all day. I did dab my face with Dead Sea mud, said to be a great mask, but missed floating in the Sea, as my brother Joel once did. The shoreline recedes each year due to increasing temperatures and water use upstream. The BBC reports that the Dead Sea is dying. I'm thankful that I could see it and bring home bath salts. And it provided perspective on the Dead Sea Scrolls, which Marjo and I would soon see at the Israel Museum in Jerusalem. Khaled told us that commercial development in the Dead Sea has bloomed since the1994 Peace Treaty between Israel and Jordan.
An interesting excursion that day was to Bethany Beyond the Jordan. Recent excavations there seem to confirm that this is the site where John the Baptist baptized his cousin, Jesus of Nazareth. "Swing Low, Sweet Chariot" resounded in my head: "I looked over Jordan and what did I see?" Just a few yards across the border, which was marked with floats in the river, I saw people in Israel getting baptized! As at the Sea of Galilee, many faiths had built churches to attract pilgrims to this holy site.
This slideshow requires JavaScript.
The next morning we bid farewell to dear Khaled and crossed the border back to Israel, where Revi greeted us warmly. The King Hussain/Allenby Bridge Crossing bristled with security guards and metal detectors. Crossing the border took us about an hour and a half. Then, on to Jersusalem!
*Reme Zawadieh's Recipe for Chicken Ouzi
Marinate your favorite pieces of chicken in plain yogurt mixed with Arabic Seven Spices several hours or overnight. Bake in 350-degree oven until cooked through.
Cook Basmati rice according to package directions. Sauté diced carrots and onions in olive oil and add to cooked rice with steamed peas and additional Seven Spices, to taste. Mix in generous handfuls of slivered almonds. Keep warm.
Drizzle cooked chicken with olive oil and more spices; broil briefly until sizzling and crispy.
Serve chicken on top of rice with extra slivered almonds. Yum!