Good Times in the Salzkammergut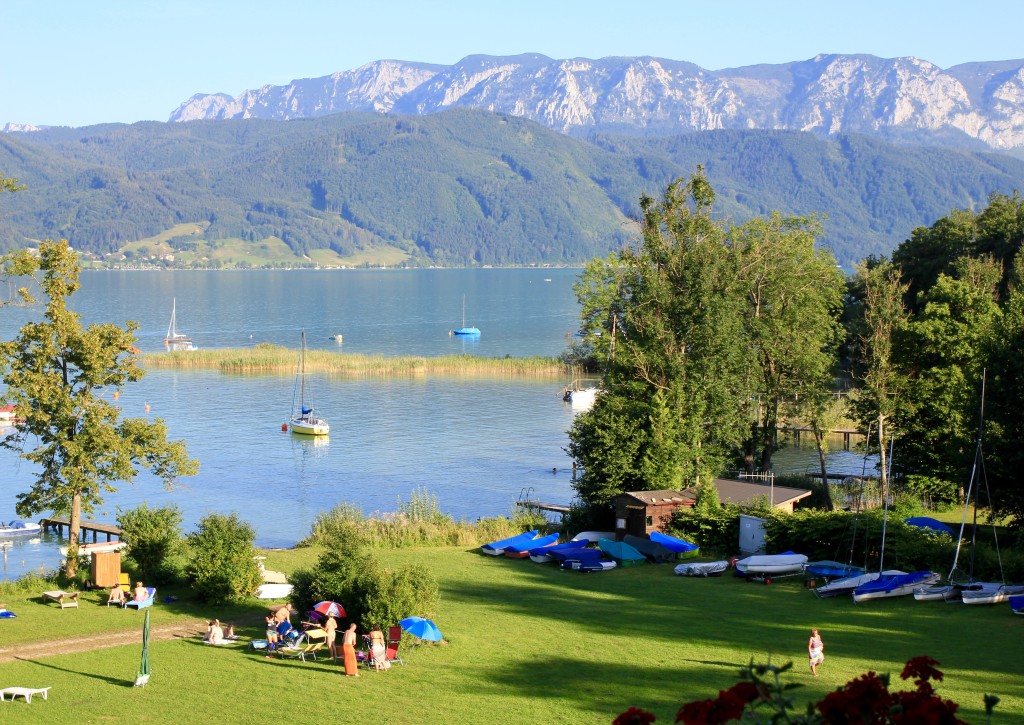 When I stayed with the Schmid family in Austria in 1965, I didn't realize that Vöcklabruck was the "Gateway to the Salzkammergut Cultural Landscape," the Alpine region that UNESCO would designate a World Heritage Site in 1997. I just knew that this was a very beautiful place; it was a long, long way from Texas; and I wanted to come back. It was a joy to return in 1991 with Steve and visit Vöcklabruck and Gmunden, on Traunsee, where I acquired my favorite pottery pitcher. We also lunched at the famous White Horse Inn, "Im Weisses Rössl" on Wolfgangsee, immortalized in a song we sang in my Phillips High School German class.
And now I have had the pleasure of bringing my daughter Lilli and granddaughter Violet with me to this region again. Lucky for us, Heinz Stürzlinger, the Austrian leader for my Experiment in International Living group in 1965, is still the friendly, generous person he was then, Last spring he invited us to stay at his condo on Attersee. On August 6, he picked us up at Villa Trapp in Salzburg. Our first stop was the beautiful Mondsee (moon lake) where we had mid-morning ice cream and I bought postcards to send my other grandchildren.
This slideshow requires JavaScript.
Next we drove to Heinz's vacation home on Attersee and met his wife Hanne. Steve and I visited Heinz and Hanne at their home in Ried im Inkreis in 1991. He had already founded his accounting software business, RZL Software. Hanne, a lawyer by education, was working with him in marketing the product and they were raising three sons. Now retired, Hanne and Heinz spend more time at the vacation home they have had for 20 years at Attersee. What a beautiful place! We so enjoyed swimming in the clear, clean lake on unusually hot days and dining on Wienerschnitzel and Salzburger Knockerl at two lovely inns that had playrooms for children. We watched the mountain across the water take on different hues of gold and red during the twilight hours.
This slideshow requires JavaScript.
Heinz had happy memories of leading Experiment groups for three summers, 1963-65. Born in 1939, he had different memories of his childhood during World War II. His father fought with the Wehrmacht in France and in Russia. At the end of the war, when the Russians were advancing on Vienna, Heinz and his siblings were sent to live with their grandparents in Vöcklabruck. But the closest train station, Attnang Puchheim, was bombed the day before they were to arrive. They had to get off the train and walk several miles. [We caught our train to Vienna in a large, new station at Attnang Puchheim.] The American soldiers occupying Upper Austria after the war gave him gum and candy. He collected their cast off bottles and carted them by bicycle 75 km to Linz to earn extra money. In the summer of 1949, he was sent by the Red Cross to stay with a family in Switzerland. Two months of hiking, swimming, and eating well, he says, made him a new boy, and one who appreciated the value of international homestays.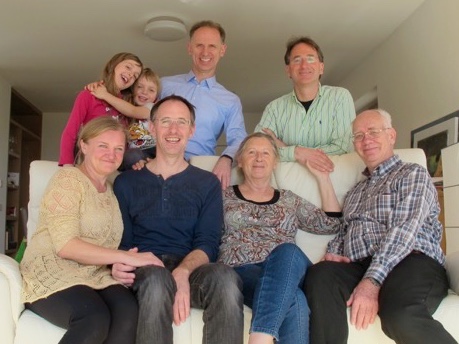 The Stürzlingers are an Austrian success story. Heinz is an innovator (he's had solar panels heating his water since 1976) and an entrepreneur. With an early personal computer and floppy disks, he began to design what is now cutting-edge software for Austrian tax accountants. He gave me a book that chronicles the growth of his firm, which now has over 50 employees and its own office building in Ried. His son Gerald heads the firm now and also pilots hot air balloons bearing the firm's logo. Last October he took part in the Albuquerque NM Balloon Fiesta. Elder son Wolfgang is Full Professor, School of Interactive Arts + Technology, Simon Fraser University, Vancouver, Canada. Younger son Martin is an archivist in Vienna. In 2007 he founded the company Archiversum that consults with institutions that need to keep records organized long-term. Each family member speaks at least three languages. I particularly enjoyed getting better acquainted with Hanne, whose penetrating intelligence, good humor, and gracious manner made us feel instantly at home. Hanne and Heinz are sweetly affectionate with each other. They enjoy their four grandchildren and will celebrate their 50th anniversary next March. Heinz is very thoughtful. He gave me a digital copy of a movie he had taken of our group in 1965. Violet and Lilli could even recognize me!
On August 7 Heinz took us on a tour of Vöcklabruck, the town that hosted our group in 1965–pure nostalgia. A large shopping center on the outskirts has made it tough on businesses in the old part of town. The ancient towers have fresh paint and display a hearty welcome, but the Gasthof that my family ran on Hinterstadt 11 is abandoned. I still have an old Gasthof napkin printed in German that translates as "When the food is good and the wine, even better, then you must be at Schmid-Leingartner Gasthof."
This slideshow requires JavaScript.
The name Salzkammergut means "Estate of the Salt Chamber" and derives from the Imperial Salt Chamber, the authority charged with running the precious saltmines of the Habsburg Monarchy. But this area was settled long before the Hapsburgs. On the way back home from Vöcklabruck, we passed a UNESCO Heritage Site marker indicating that Prehistoric Pile dwellings were on Attersee from around 5000 to 500 BCE, and calling them "among the most important archeological treasures of Europe." As we swam in Attersee, we could feel remnants of old pilings with our toes.
This slideshow requires JavaScript.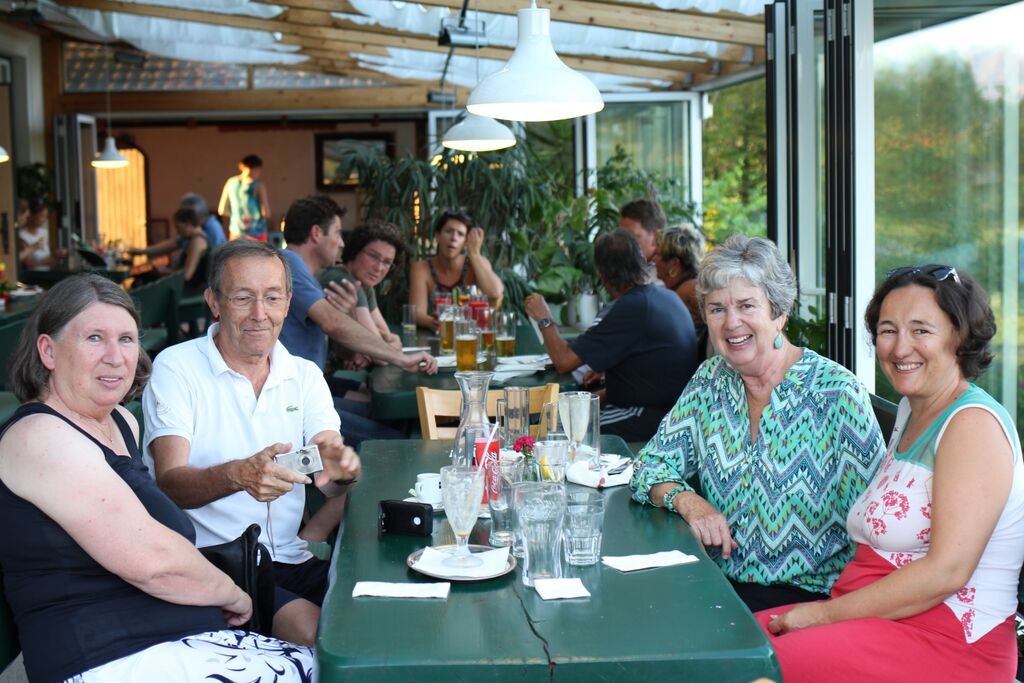 On the final night at Attersee, friends from nearby St. Konrad joined us for dinner. Herbert Schmid is the cousin of my Austrian sisters Edith and Christl. He lived in Vöcklabruck when I stayed with the Schmids and spent a lot of time with Christl and me. Steve and I had dinner with him and his wife Steffi in 1991. In 1992 their daughter Renate stayed with us in Arlington for a few days. Renate lives in Vienna with her son Lukas, 14, and is an environmental consultant. She told me that she competes for contracts with McKinsey and Company, the firm I worked for in Washington 1968-71. I had to smile when she said that McKinsey charges three times her rate. McKinsey consultants have always priced themselves dearly. Herbert is now retired after working as an architect in St. Konrad. It was lovely to visit with them.
I have now seen four of the many lakes in the Salzkammergut region–Attersee, the largest, Mondsee, Traunsee, and Wolfgangsee–a world treasure of beauty. And yes, I want to come back again and see more.