Hudson River Museums and Mansions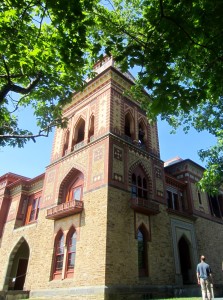 Though I had seen the Hudson River from Manhattan, I had never explored upriver until last month. After visiting Mass MoCA and The Clark in Massachusetts, Marjo and I drove to Olana, the home of Frederic Church, a painter in the Hudson River School. Since the home of his teacher, Thomas Cole, lies just across the river, the Olana State Historical Site and the Thomas Cole National Historic Site are hosting a joint exhibition this year called River Crossings, stressing the connection of Cole and Church and featuring the works of 28 more recent artists. Photos were not permitted, so I took notes on those I liked best. Martin Puryear had first captivated me at The Modern in Fort Worth; at Olana, his Question was a large 12-sided wood prism, twisted into something of a question mark, beautifully crafted and provocative. Chuck Close's self-portrait, Yellow Coat, had been transformed into a computer-produced tapestry. The guide noted that Close has a physical connection with Frederic Church; both suffered severe arthritis. Most dazzling to us was Maya Lin's Silver Hudson, shown here in a detail, courtesy of Pace Gallery in New York–just the river itself, rendered in shining silver and so very beautiful.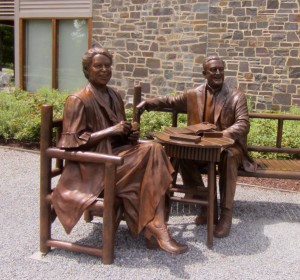 Franklin Roosevelt's Presidential Museum and Library was our principal attraction to the Hudson River Valley. We had already seen the Presidential museums of Bill Clinton, George H.W. Bush, Lyndon Johnson, George W. Bush, and most recently John F. Kennedy in Boston. Both of us had read biographies of Franklin and Eleanor and watched the recent Ken Burns series, The Roosevelts.
In order to immerse ourselves in the environment that produced the longest-serving President, we spent three nights at The Journey Inn, in Hyde Park NY. Besides offering delicious breakfasts and congenial company, our hostess recommended two restaurants in nearby Rhinebeck, where we had memorable dinners: Market Street and Calico (surely the world's best bouillabaisse). Marjo, who had attended a "wine lovers' boot camp" at the Culinary Institute of America, Greystone in Napa Valley last fall, had already reserved a table at Bocuse in the CIA's original campus in Hyde Park. World-class food, a panorama of American history, and lilacs in bloom–a perfect setting for two lifelong friends to indulge their interests.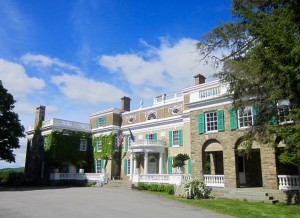 Franklin Roosevelt's home, where he was born and where he is buried, was a wonderful refresher course in the period of history (1932-1945) he so dominated. In 1921, at the age of 39, FDR contracted polio and became paralyzed from the waist down. No special ramps were added to his home during his lifetime; he simply pulled himself up the front steps on handrails and took himself upstairs by pulling the ropes of the dumb waiter with his impressive upper-body strength. His mother's room could be observed between the separate bedrooms of Franklin and Eleanor, just as reported in Joseph Lash's biographies. Several videos throughout the museum brought me to tears, as I  realized anew what challenges Franklin and Eleanor faced and how their leadership brought our country through the Great Depression and World War II. Particularly moving were the pictures of common people grieving as Franklin's funeral train made its way from Warm Springs GA to the Capitol. Though my own parents, and Marjo's, disparaged the Roosevelts, we both admire them and appreciate what they meant to our country.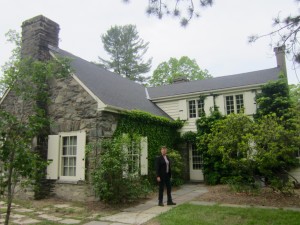 Val-Kill, Eleanor's private retreat a few miles away, was a place where she could get away from Franklin and his mother. It was homey and unpretentious, though filled with mementos and photos of the many world leaders who visited there. Note: in Dutch, "kill" simply means "stream;" firearms are strictly prohibited. Upon arriving we heard the gentle murmur of the stream and the songs of abundant birds. It remains a place of peace and tranquility. Val-Kill is the only National Park Service site dedicated to a First Lady. At her death in 1962, the family made it available, but the Park Service rejected it out of hand. In 1977, during Jimmy Carter's administration, the Park Service assumed possession and began restoration. It opened in 1984.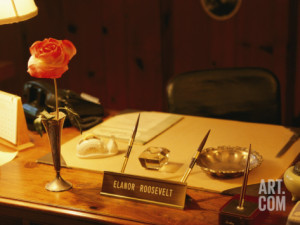 Eleanor was a First Lady like no other. She was the eyes and ears of her handicapped husband and his most trusted advisor. During World War II, she toured military bases all over the world. Generals who at first resented her "meddling," were converted by her energetic thoroughness and the tremendous morale boost she provided the soldiers. Many of the videos and artifacts made my eyes moist. This name plate on her desk was misspelled, but she kept it on display, because a student had made it by hand and presented it to her.
Our guide was Dot, a woman who helped restore the house in the 1980s and stayed to interpret its significance. The history of Val-Kill and Eleanor just poured from her lips in vivid vignettes. I bought a copy of the United Nations' "Universal Declaration of Human Rights," which Eleanor considered her greatest accomplishment. Sometimes I think the world has come a long way since this declaration was passed in 1948, but then I consider Articles 5, 7, 9 and 16 and know that we have much more work to do. I invite you to read it and see what you think.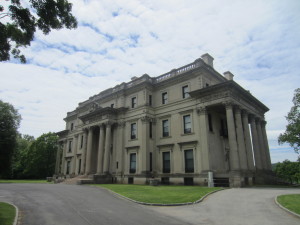 The Vanderbilt Mansion, just north of Roosevelt's home, is a monument to the Gilded Age, but in my estimation, is not nearly as beautiful or as vibrant as the Flagler Museum, that I've often visited in Palm Beach. Both were built in the early 1900s and financed by railroad fortunes. The guide told us that Frederic Vanderbilt, grandson of Cornelius, and his wife Louise, had begun building this mansion in 1895, after a visit to Biltmore, the estate his brother George had just finished in Asheville NC. Frederick's architecture firm, McKim, Mead & White, incorporated the latest innovations: electricity, central heating, and indoor plumbing. Many of the mansion's contents were bought in Europe from wealthy families who had fallen on hard times. Furnishings and construction costs totaled around $2,250,00. As many as 60 staff worked here when the Vanderbilts came in the spring and fall.
The Roosevelts, whose land had been in the family for a hundred years, considered the Vanderbilts "nouveau riche." In about 1904, Frederic and Louise invited their neighbor Franklin and his fiancée, Eleanor, to a house party. Franklin stayed in the adjacent Pavilion. Louise offered Eleanor a choice of five gowns, so that she would match the decor in the main house. Eleanor was appalled at the ostentation and excess and told Franklin after one night that she never wanted to return. I agree with Eleanor; this mansion did not appear to be a happy place.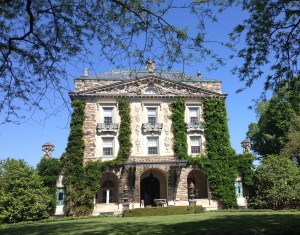 Kykuit, the Rockefeller Estate in Sleepy Hollow, NY, is much more appealing with its
monumental stone house
spectacular Hudson Valley views
expansive garden terraces
numerous fountains
Gov. Nelson A. Rockefeller's 20th century art and sculpture collection of works by Moore, Calder, Picasso, and Warhol
and a Coach Barn, filled with classic cars, horse-drawn vehicles, and bits, bridles, and saddles.
Kykuit, pronounced KIGH-kut, is the Dutch word for "lookout." The house was completed in 1914 for John D. Rockefeller, Sr. When he died in 1937, it passed to his only son, Rockefeller Junior, and his wife Abby, who added their own unique touches to the house. After Junior's death in 1960, his son Nelson moved into Kykuit and introduced a more family-friendly atmosphere, including two swimming pools, a bar, and an ice cream parlour. Photos were allowed only outside; here are the pictures I took on a beautiful day. Nelson's widow, "Happy" Rockefeller, had died the day before our tour. She had had her own quarters on a private part of the estate.
Besides magnificent mansions, gardens, and art collections, what legacies have these three families left? For the Roosevelts, the answers are public service and fractured families. Eleanor and Franklin inspired leaders in America and abroad; but their five children racked up a total of seventeen divorces, as Elizabeth and I once heard grandson Curtis Roosevelt discuss in a Smithsonian lecture. The Rockefeller Foundation has promoted the well-being of humanity around the world since 1913. Rockefellers have also entered public service: Nelson as Governor of New York; his brother Winthrop, Governor of Arkansas; his nephew John D. IV, Member of Congress from West Virginia. Commodore Vanderbilt gave a million-dollar ship to the Union Navy during the Civil War; after the war, he donated a million dollars to establish Vanderbilt University in an effort to bring the opposing sides together. In 2009 Philanthropy magazine published a fascinating review of the Cornelius Vanderbilt biography, Tycoon, by T. J. Stiles, which I need to finish reading. The reviewer, Martin Morse Wooster, concludes:
The Vanderbilt family eventually ceased to be major philanthropists. The reason is simple: the money dried up. "Within thirty years after the death of Commodore Vanderbilt," notes family historian Arthur Vanderbilt, "no members of his family were among the richest people in the United States." Arthur also notes that, in 1973, Vanderbilt University invited 120 descendants of Cornelius Vanderbilt to the school. Not one of them was a millionaire.

In The First Tycoon, T. J. Stiles shows that Cornelius Vanderbilt, while decidedly not a first-tier donor, is a significant figure in American business history whose views and charity ought to be better known. Stiles' will likely prove to be the definitive biography of this epic entrepreneur.