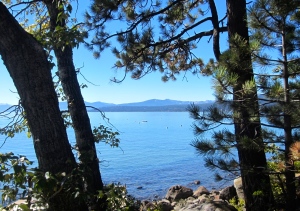 From Yosemite, Karen, Joe, Steve and I drove north to Lake Tahoe, the second deepest lake in the United States, after Crater Lake. Known for its clarity, it has a shoreline of 72 miles and a surface area of 191 square miles. About two-thirds of the lake is in California and the rest in Nevada. Even after Yosemite, its beauty was breathtaking. The weather, too, was still beautiful, but we couldn't resist stopping at a sports bar in Incline Village, CA to watch the SF Giants, Karen & Joe's team, play our Washington Nationals in the National League Championship Series. The Giants won. Then we proceeded to the lovely Cedar Glen Lodge, that Karen had found in Tahoe Vista, CA. Early the next morning Steve and I walked beside Lake Tahoe, which, like the lakes and rivers in Yosemite, showed the effects of the three-year drought. At 10:00 we all took a two-hour cruise on the Wild Goose, a beautiful mahogany boat. The beauty of the lake and its surrounding houses were on full display; the colors in these photos are true to life.
Our boat captain, Matt, told us about Tahoe pioneer George Whittell, Jr., 1881-1969, and showed us the lakefront estate he built for himself in the mid-30s named Thunderbird Lodge. Having inherited a large family fortune, Whittell was shrewd enough to divest himself of $50 million worth of stocks just before the October 1929 stock market crash (some say his action may have helped cause the crash). Whittell cruised the lake in his Thunderbird yacht and motored in one of his Duesenberg automobiles, accompanied by his pet lion, Bill. Though he was married twice and entertained starlets, he had no heirs, so his property is now owned by the US Forest Service.
After lunch at a restaurant our guide had recommended, we drove around the Lake to Squaw Valley, home of the 1960 Winter Olympics, to see one of the many Tahoe ski resorts. The Giants-Nationals game started at 3:30 PDT. We thought our 7 pm dinner reservations would be just right, but at 7, the game was still going on. We ate a wonderful dinner at the Rustic Lounge in the Lodge, though many diners surreptitiously followed the game on their phones. Then we returned to Karen and Joe's room to see the last few innings of a record-breaking 18-inning game, which the Giants finally won.
Early the next morning, Karen and Joe drove us from Tahoe to Sacramento for our flight to Dallas to see the Eidson family. Spectacular scenery, fresh air and exercise, fascinating stories of Western Indians, soldiers and pioneers, great food, close family and even championship baseball–a memorable vacation! But wait, where's the music? I chose works by American composer Virgil Thompson to accompany this slide show I made for the people at Walter Reed Senior Day Center in Arlington.