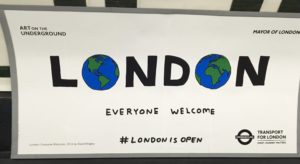 For years I've enjoyed listening to recordings by Sir Neville Marriner and his Academy of St. Martin in the Fields chamber orchestra. On my first morning in London, I headed for the Anglican church that nourished such a wonderful artistic collaboration, St. Martin in the Fields, in Trafalgar Square. Sir Neville is 92 now and no longer active at the church, but I enjoyed taking communion there and hearing a sermon on welcoming immigrants. Pauline McFarland, the woman who sat next to me, took the sermon to heart, introduced herself, and graciously invited me to the undercroft after the service. I felt quite at home; the subway sign shown above was true for me.
This slideshow requires JavaScript.
At Trafalgar Square I encountered a charity bike ride of 20,000+ cyclists that reminded me of Lilli's Pan-Mass Challenge fund-raising rides in 2007-08. It looked as if London organizers had copied Boston's successful idea, or perhaps the London ride was Billy Starr's model.The London cyclists were raising funds for a variety of worthy causes. I chatted with a woman representing Barnardo's, a children's charity, and cheered them on.
This slideshow requires JavaScript.
The next day I explored St. Paul's from its sunken crypt to the Golden Gallery near the top. Though no photos were allowed, I saw an exhibit that marked the 350th anniversary of the Great Fire that destroyed an older church in 1666. Another display told how Christopher Wren designed the enormous dome for the present church. I learned that his majestic dome miraculously escaped damage during World War II and became a symbol of the city's resolve. From the cathedral I walked across the Millennium Bridge to the Tate Modern Museum across the Thames.
This slideshow requires JavaScript.
The London Eye was another Millennium project for London. Expensive, but worth it and very smooth. Once around in thirty minutes was just right.
This slideshow requires JavaScript.
Here are more photos that will nourish my memories of pleasurable walks through London's landmarks.
This slideshow requires JavaScript.