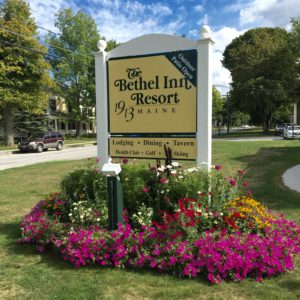 One way to escape the Florida heat in August is to spend time at the Bethel Inn in western Maine. It worked for us this year. Owned by friends who spend their winters in Boynton Beach, the Bethel Inn is a smaller-scale version of The Homestead in Warm Springs, VA with swimming, golf, tennis, boating, and good food. We spent one morning hiking together in nearby Grafton Notch State Park.
Our friend Arlene, who works for The Nature Conservancy, recommended a visit to her organization's Step Falls Preserve. The rain stopped, the sky cleared, and we enjoyed a mile-long hike.
This slideshow requires JavaScript.
While Lilli and I had massages, Steve taught Violet to play gin rummy. Then Lilli took Violet out in a kayak on the Bethel Inn Lake. Relaxing!