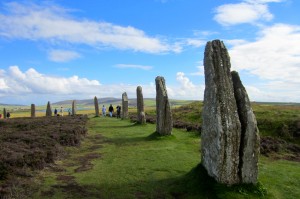 On August 23, 2012 Allene, Nina and I traveled by bus and ferry to the Orkney Islands, the remote northernmost tip of Scotland, while our husbands played golf. Residents call it "a place between the wind and water." The sheltered waters of Scapa Flow played an important role in both World Wars. We visited Skara Brae, a neolithic village dating back to 3100 BC, the Standing Stones of Stenness at left, and an amazing Chapel built by Italian prisoners in WWII. Every minute of that day was charged with history and beauty. I would love to return for a longer visit.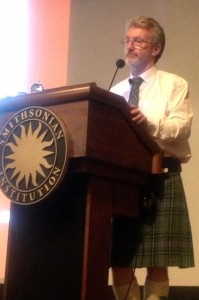 On December 5 Steve and I attended a lecture at the Smithsonian Museum of Natural History by Scottish archeologist Nick Card. Since 2008, Card has headed a team at the Ness of Brodgar in Orkney that has uncovered stunning discoveries at a Neolithic temple complex that predates Stonehenge by 500 years. They shed new light on rituals in ancient Britain, suggesting that religious and engineering concepts traveled from north to south, contrary to previous thought.  For example, though we didn't have time to see Maes Howe, the Orkney chambered cairn, Card pointed out the similarities between it and Newgrange near Dublin, which Allene and I visited in 2006. You can see a similar lecture Card presented in Glasgow last month on YouTube.
Card's excavations at a temple—which geophysics reveals to be just one of nearly 100 buried structures on the narrow promontory—have uncovered a sacred precinct once bounded by a 3-meter-high wall of 10,000 tons of quarried rock. Within the hidden temple, priests processed down fire-lit corridors dotted with secret rooms, conducting rituals that lay at the heart of what can now be seen as a complex and socially stratified society that dates to about 3000 B.C.
Card describes the temple as "an archeologist's dreamsite." Neolithic Orkney was inscribed as a World Heritage Site in 1999, and the excavation was named the 2011 Current Archeology Research Project of the Year. Card has lived and worked on Orkney for more than 20 years, and is senior projects manager of the Orkney Research Centre for Archeology, Orkney College University of Highlands and Islands.