Steve had already played in two Scottish golf tournaments when he met my train in Inverness on August 12. We drove north to Dornoch, home of his favorite course in the world, where it was thirty degrees cooler than Austria. Friends from previous trips–Allene & Jim Cooley, Lisa Craig, and Kerensa & Michael Carr–welcomed me warmly. After the intensity of Austria, it was wonderful to relax.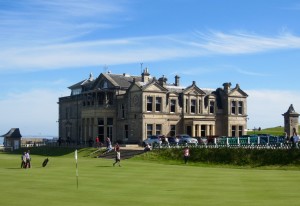 Three days later in St. Andrews, the home of the Royal and Ancient Golf Club, we met Anne and Stewart Rennie. While Steve and Stewart played the Eden Course, where they first met 12 years ago, Anne and I enjoyed visiting the Botanic Gardens and walking around this lovely, compact town.
From the bay window in our room at the Russell Hotel we had a fine view of the Martyrs' Monument on The Scores, the park next to the West Sands beach. We had seen the Monument many times, but not thought much about the martyrs. It was built to commemorate four Protestant men who were martyred in St Andrews in the 16th century. St Andrews at that time had the largest cathedral in Scotland. Patrick Hamilton was first to be burnt at the stake, in 1527, after he promoted the doctrines of Martin Luther. Henry Forest was executed in 1533 for owning a copy of the New Testament in English. George Wishart was burnt at the stake for defying the Catholic Church and Walter Myln followed in 1558, having advocated married clergy. In the end, their cause prevailed: St Andrews Cathedral was sacked and desecrated by a mob in 1559, following an inflammatory sermon preached in Holy Trinity Church by John Knox. Scotland became Protestant following the Reformation of 1560.
This slideshow requires JavaScript.
One day the four of us drove down the coast of Fife, stopping to explore ancient harbors. Anne Rennie is an artist; she had painted the Harbour Office in Crail and gave me a lovely card imprinted with that image. A favorite memory is sitting on a grassy slope above the North Sea, watching lobstermen gather their pots, while gannets and gulls wheeled in the clear, blue sky. Back home, guests at Steve's birthday party on August 22 enjoyed the artisan chocolates from my favorite shop in Pittenweem.
This slideshow requires JavaScript.
In order to be near the Edinburgh airport for early flights on August 19, we relocated the day before to Norton House. There Anne had a surprise waiting for me.