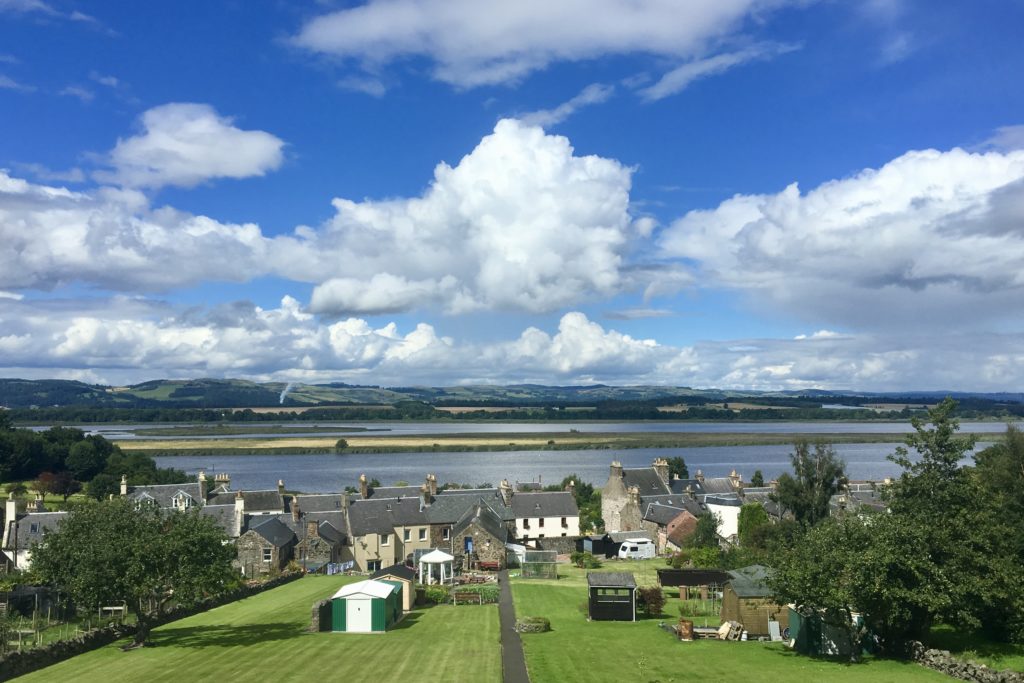 Cities in Scotland are energizing and exhilarating; smaller towns, while still stimulating, allow rest and reflection. Most of my vacation this August was in two Scottish towns–nine days in Dornoch and three in Ayr, where Steve golfed with friends. I spent four days with Elizabeth and Jan in Edinburgh (see separate post), but only four hours alone in Glasgow. In the cities I saw four major museums, three world-class performances, one large cathedral, and two busy train stations. In the towns I discovered intriguing local attractions and took long walks in woods or along seashores. Wherever I went, I found vivid gardens, enjoyed delicious Scottish food, and encountered interesting, thoughtful people. I loved my time in Scotland.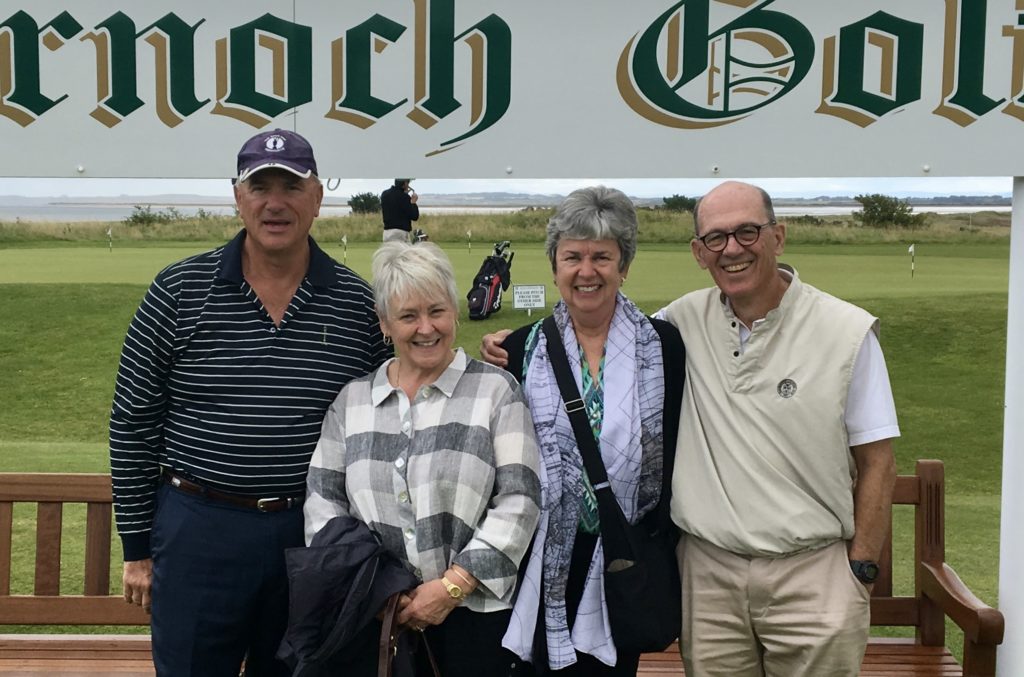 Dornoch. Steve fell in love with Royal Dornoch Golf Course when he first played it in 2001. Dornoch is a small town on the North Sea, 45-minutes north of Inverness. In the last decade we have made enough friends there to host an annual cocktail party. What we feel in Dornoch is a sense of belonging. The church allows me the key to their piano and the bookshop keeps me well supplied. We buy local delicacies at the weekly fresh-air market and have become regulars at three excellent restaurants. Dornoch has served as home base for visiting Dunrobin Castle, Ullapool, and the Orkney Islands. This year we missed the company of Allene and Jim Cooley and Kate Richards, but enjoyed being with Lisa Craig and her friend Charles Alexander, cousins Maxann and Jay Collins, and their friends, Sandy and Ron Barclay from Austin. Here is a large album of photos I have assembled to show what a wonderful community we have found in Dornoch.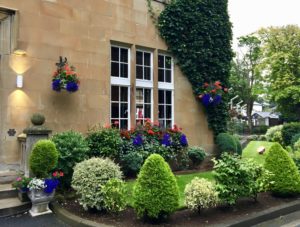 Ayr. This, our third visit to Ayr, was occasioned by invitations from Scots who belong to Secession Golf Club in Beaufort SC, which Steve served as president for several years. In 2012 we met the Pitkins and the Rennies in Ayr; in 2014, the Cooleys, when Allene and I visited museums in Glasgow. This year, while Steve played golf at Prestwick and Troon, I had time to walk and write. Today I got my 10,000 steps on the Ayrshire Coastal Path, had lunch at The Secret Garden, and when it started to rain, accepted a ride back to the hotel from a mother-daughter pair at the next table. That's Scottish hospitality!
This slideshow requires JavaScript.
Tonight we hosted a dinner for the guys who had been treating Steve to golf at their clubs. I so enjoyed meeting them and their wives. Pat and Diane Duness live in Ayr; John and Anne Morrison, in a suburb of Glasgow. Though it was golf that brought us together, we found more common ground as we discussed our families, our travels and this week's events in the world we all share.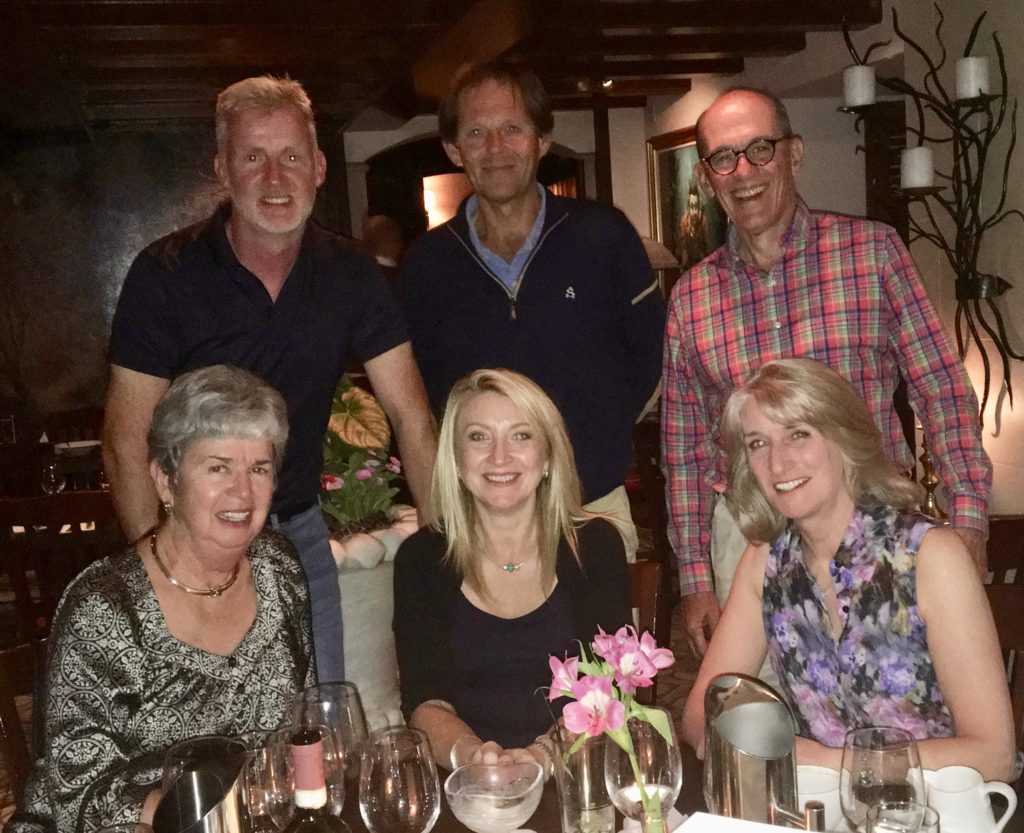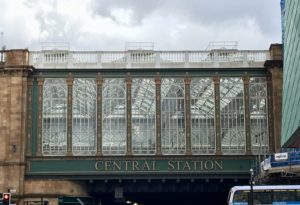 Glasgow. Yesterday I took the train from Ayr to Glasgow, In 1995 I attended a 12-day International Piano Workshop in Glasgow and stayed at the Central Hotel above the light-filled Central Station. That's when Steve first discovered the pleasures of Scots links golf. This time I returned by train to Central Station, hopped on a City Bus, and hopped off twice for places I wanted to see. The Riverside Museum of Transport is an exciting new building designed by the late Zaha Hadid. View this photo album to see the building, the Tall Ship anchored behind it, and the vehicles Glaswegians built and used a century ago.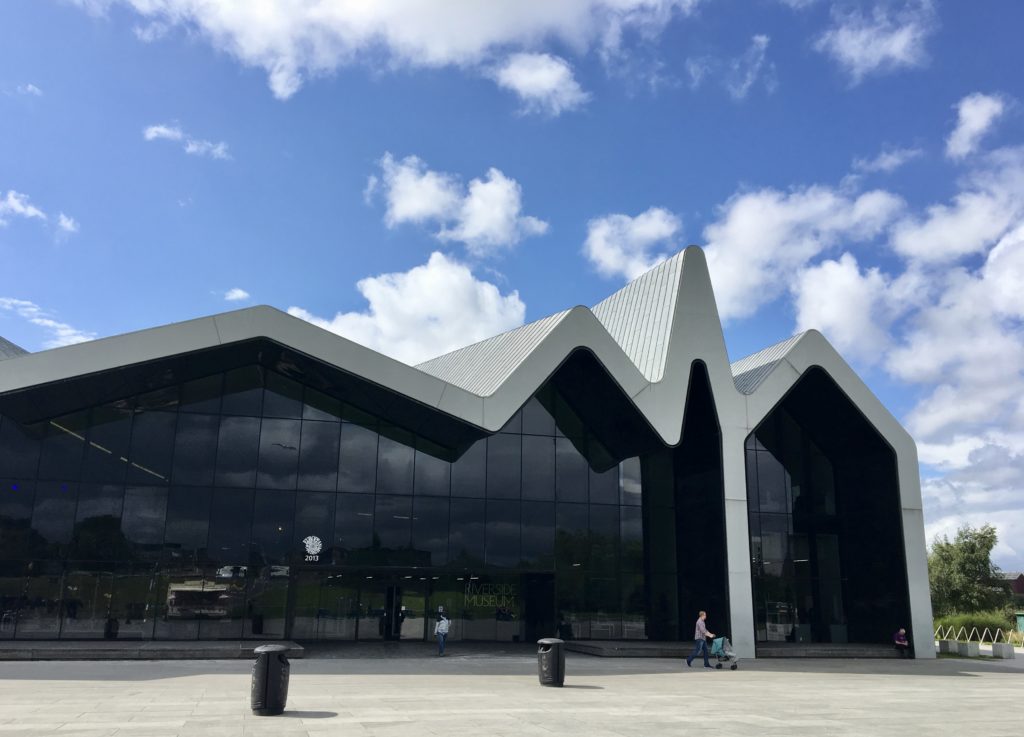 Next stop was the University of Glasgow. The University, founded in 1451, is the fourth oldest in the English-speaking world. I had seen parts of it, but had never encountered the full majesty of the Gilmorehill campus.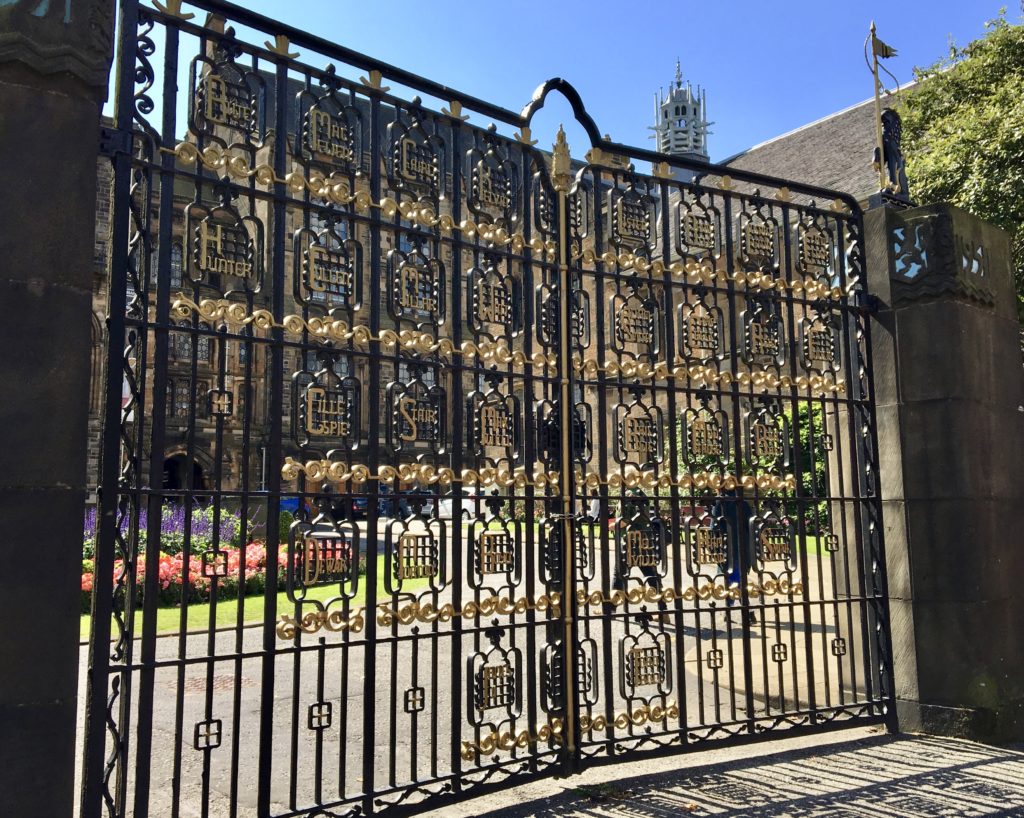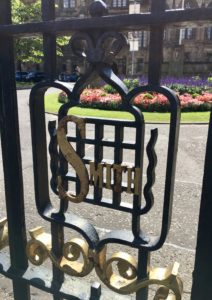 The bus tour guide pointed out the Memorial Gates installed in 1952 to honor the twenty-nine most outstanding figures during the first 500 years of the University's history:  Lister, Kelvin, Watt, and Adam Smith, among others. The names of Donald Dewar and John Smith were added to the gates in 2001, marking the University's 550th year, in recognition of their status as outstanding University figures of the late 20th century. I loved seeing the name Smith twice on those gates!
The spaces and buildings inside those gates took my breath away.  I love visiting university campuses (look for other posts about Rice, Harvard, MIT, and Davidson). This campus impressed me with its almost overwhelming beauty, its regal buildings, its touching memorials, and an overall atmosphere of serious scholarship.
This slideshow requires JavaScript.
Like Washington's Smithsonian, the Hunterian Museum at the University of Glasgow was named for a visionary. Opened in 1807, it is the oldest public museum in Scotland and houses the collections of Dr. William Hunter, 1718-1783. Born to a farmer in Kilbride near Glasgow, Hunter came to the University of Glasgow intending to be a pastor, but became a medical doctor instead. In his career in London, Hunter applied the Scottish Enlightenment principles of observation and analysis to anatomy and obstetrics, contributing significantly to the development of medicine. The museum is able to display only two percent of his vast collections, but here are a few samples.
This slideshow requires JavaScript.
In both cities and towns I observed how Scots who died in 20th century wars are lovingly remembered. The spilling of copious amounts of Commonwealth blood had a profound and lasting impact on United Kingdom society. The memorials are beautifully maintained, reflecting a strong national pride.