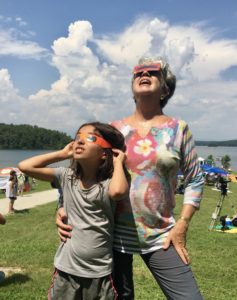 Look up in wonder at the Sun, giver of life. Behold the moon's brief triumph. Recall mythic explanations, rely on scientific precision; rejoice when the sun reappears! My solar quest began last March, when my brother Joel announced his plan to see the August 21 Solar Eclipse in Beatrice, Nebraska, 600+ miles from his home in Waxahachie TX. "Hmm, I want to see that eclipse, too."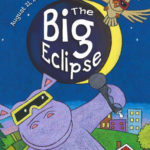 In May Allene Cooley tells me about The Big Eclipse, a children's book by Nancy Coffelt, whom she had met on a plane. I order it and the related activity book and invite my older grandchildren to join me somewhere in South Carolina on my way home from Scotland. Grandsons Stephen and Thomas will have their first day of school in Dallas on August 21, but Violet is available.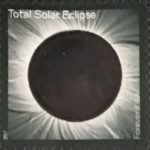 In June, I buy Total Solar Eclipse commemorative stamps at the Post Office. Plans expand to include Violet's best friend Elizabeth and her five-year-old sister, Abigail, and their father, Josh Sheldon. When Lilli discovers that flights from Boston to Atlanta are much cheaper than to Charleston, Martha chooses lodging in Seneca, South Carolina (Thank goodness we didn't go to Charleston; it turned out to be cloudy there.)  Josh volunteers to drive two hours from Atlanta to Seneca and back. Lilli devises a clever itinerary for two adults and three children, using three airlines and four airports, with maximum convenience and minimum cost.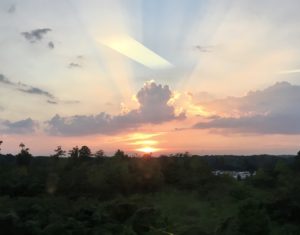 Sunday, Aug 20, 4 pm. Nineteen hours after returning from Scotland, I join Violet, Elizabeth, Josh and Abby to fly to Atlanta, rent a car, and spend the night near the Atlanta Airport. After we wait twenty minutes for our "Fastrack" car, the Budget rental agent exclaims:
     "Almost all the cars in this airport are rented! Avis and Hertz have already closed. I don't know why all these eclipse chasers are going to so much trouble to see something that lasts two minutes. I can see it on YouTube the next day!"
Monday, Aug 21, The Big Day! We leave La Quinta Airport Inn early, but heavy traffic on I-85 turns a two-hour trip into four hours. The kids occasionally ask "When are we going to get there?" but are generally adaptive, especially after we stop for snacks. Josh, a researcher in educational technology at MIT, and I get better acquainted and find many common interests. The WAYZ app steers us around the worst traffic snarls and onto some pretty country roads. At last we arrive in Seneca. Josh chooses Little Pigs BBQ for lunch; their Carolina pulled pork is world-class. A sign on their door says they will be closed from 2 to 4 pm for eclipse watching. Noticing a group of teachers having a birthday party at the next table, I ask "Where's the best place to watch the eclipse?" Their unanimous answer: "Duke Energy! It's an official NASA viewing site and it's just seven miles up the road."
This slideshow requires JavaScript.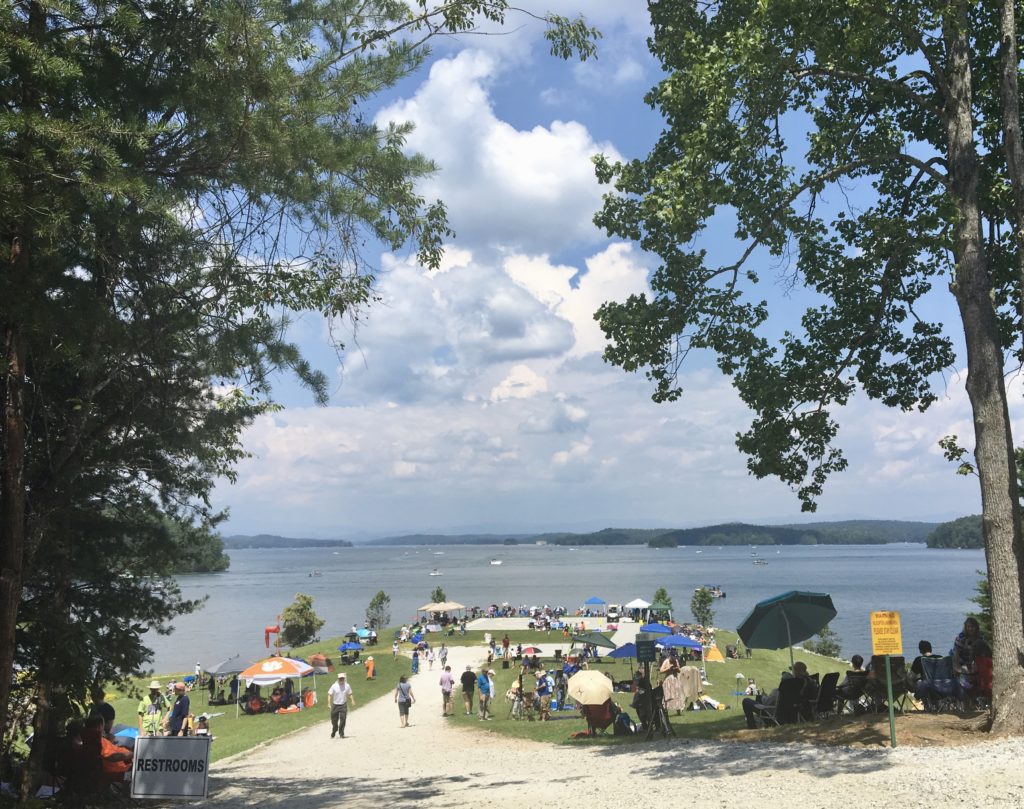 Duke Energy is at Latitude 34.797025 and Longitude -82.898979, directly under the path of totality. My new Solar Eclipse Timer app calculates that the first contact of moon and sun would occur at 1:08:08.9, with the total eclipse beginning at 2:36:53.5 and lasting until 2:39:30.8 (2 minutes and 37 seconds!). Clouds are building on the horizons, but the center of the sky is clear. Duke Energy has parking places, shuttle buses, friendly greeters, cooling stations, and nature trails. It is especially nice to find an amateur astronomer sharing projections of the eclipse's progress on his telescope.
We arrive shortly after the eclipse begins and settle on a grassy slope near some cooler woods. We look at the sun through the special solar eclipse glasses (ISO 12312-2) I had bought at the Exploratorium in San Francisco in July. Seeing the moon begin to cover the sun, Violet comments,  "It looks like a mouse is taking a bite of a round cheese and it keeps coming back for more." Elizabeth and Violet, who had attended a two-week summer drama camp that concluded with a production of the musical, "Annie," keep singing "The sun will come out…", sometimes adding "this afternoon!"
This slideshow requires JavaScript.
As totality neared, the temperature cooled noticeably, from 92 degrees F to, say, 84 degrees. We saw Baily's Beads, the Diamond Ring, and then the sun's beautiful corona around the moon. I took only one photo, which shows accurately the degree of darkness we experienced, but the sun was not bright, as it is in the photo. It looks that way because the sun's corona still projected too much light for my iPhone 6s camera. My sister-in-law Elisabeth got a wonderful image of the eclipse in Beatrice, Nebraska with Joel and Andy. (Her camera's Vienna date stamp is seven hours ahead of Nebraska's CDT). Her image is what we saw when we looked at the eclipsed sun, at last able safely to forego the special glasses. The sky was lighter where we were, Lilli suggests, because of the surrounding clouds. We also saw Venus and Jupiter, "evening stars" at 2:30 in the afternoon. The kids heard cicadas.
To express the wonder I felt, Psalm 8, in the King James Version I memorized as a child, came to mind:
3 When I consider thy heavens, the work of thy fingers, the moon and the stars, which thou hast ordained; 4 What is man, that thou art mindful of him?…
I sensed a communal feeling of respect for the universe. Nicholas Kristof expressed it well:
the appeal of the solar eclipse is not just its rarity, but the way it puts us in our place. It disrupts the routines we rely on and reminds us of the vastness, beauty and rigor of the solar system. One moment we are the masters of the universe. The next, the moon occludes the sun and we have to wait for light to reappear."
I was thrilled to take part in a truly Universal event. The eclipse was beautiful, but not terrifyingly so. We all knew what to expect and trusted the scientists' predictions. It wasn't a deep religious experience, but it was unique and definitely worth the effort. When the sun shone again, the girls did this dance at least a dozen times.
Abby is inspired to meditate, though her sister says she has never seen her do that before. The shadows through the trees' leaves show the sun still partially covered. It will be Abby and those shadows that stick in my memory–so unexpected, so very lovely.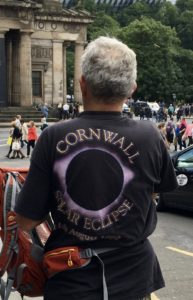 At the motel pool afterward, we compare notes with a couple from England and their 9-year-old boy. The parents had seen a cloud-obscured eclipse in Cornwall in August, 1999 and were thrilled that this one was clear and bright. I had seen a tee-shirt about that eclipse in Edinburgh on August 5. In Seneca Joe's New York Style Pizza Restaurant was especially busy. Strangers eagerly exchanged stories. Once more, three adorable, enthusiastic young girls are immediate ice breakers.
Tuesday, Aug 22, the day after. It takes three hours to drive 129 miles back to Atlanta airport. Martha, Violet and Elizabeth, headed for Fort Lauderdale, bid a fond farewell to Josh and Abby, returning to Boston. We have shared an experience we'll always remember. Could we have gotten the same thrill from YouTube? No way! Was it worth it? Five votes for "Yes!" How can I ever look at the sun the same way again?