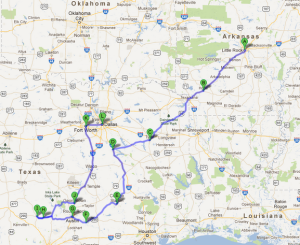 On April 19, with Steve immersed in South Carolina golf activities, I flew to Little Rock, Arkansas and met my friend Marjo. For three days we toured Presidential museums: Bill Clinton's in Little Rock and his Birthplace in Hope; George H.W. Bush's in College Station; and Lyndon Johnson's in Austin and his Boyhood Home and Ranch in Stonewall.
Along the way, we visited the Tyler Rose Garden, a special bakery in Corsicana and a cool art installation in an Austin alley by Lilli's friend Michelle. There I connected with former piano student Kathleen.
In Fredericksburg, Texas, we joined seven other women who attended Phillips Texas Elementary School with us. The are my Phillips Family. For three wonderful days we ate, drank, laughed and talked at Baron's Creekside resort. Our classmate Billy Don and his wife Liz drove eight hours from the Panhandle to visit with us. After all the fun there, Deanna drove three of us to her home in Georgetown, where we picked up Sandra's car and drove to Fort Worth. On the way we passed through Waco where President Obama was speaking at a memorial service for the people who had died in the factory explosion in West a week before. We stopped at the Czech Stop, a famous bakery in West, bought kolaches and contributed to their disaster relief fund.
The next morning I met Linda and Susan for a wonderful tour of the Modern Museum of Art.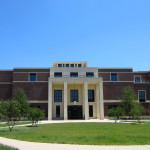 In the afternoon I caught the Trinity Rail Express train to Dallas for three lovely days with Shelby, Sean, Stephen and Thomas.  George W. Bush's Presidential Library had just been dedicated on the SMU campus, but it was not yet open to the public. We had dinner with my niece Patti and her family and saw the Eidsons' newly purchased house. On the last day, I had lunch with my friend Joan, a retired piano teacher I'd met in France in 1994. To have seen so many flowers, friends and family members was a great joy. I owe special thanks to Marjo for her expert driving, flexibility and resourcefulness. She even braked for bluebonnets. Thanks as well to Sandra, who hosted me overnight at her lovely home in Fort Worth. Frequently during this trip I thought of the Texas state song we used to sing:
Texas, Our Texas! all hail the mighty State!
Texas, Our Texas! so wonderful so great!
Boldest and grandest, withstanding ev'ry test
O Empire wide and glorious, you stand supremely blest.