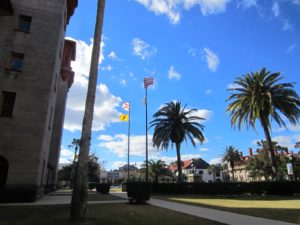 St. Augustine is a charming city of about 13,000, just south of Jacksonville. It is the oldest continuously occupied European-established settlement in the continental United States, 42 years older than Jamestown and 55 years older than Plymouth. For the third year in a row Steve and I visited our friends Nina and Roger there last weekend. And for the second time, we attended the annual "Cherrydale South" reunion–members of our Arlington Church who have relocated to North Florida. Lucky us–seeing old friends and learning new facts about Florida history..
Thanks to the travels of Ponce de León in 1513, Spanish navigators knew that the best return route from Spain's rich New World possessions was along the Gulf Stream past the shores of Florida. Spain claimed Florida that year, but France gained a foothold in 1564 by establishing Fort Caroline on the St. Johns River. Seeing this fort as both a challenge to Spain's claims and a menace to ships bringing home gold and silver, King Philip II sent Pedro Menéndez de Avilés to eliminate the French threat and establish settlements. Avilés first sighted land on August 28, 1565, the feast day of St. Augustine, Bishop of Hippo. Avilés soon eliminated the French; the river and the inlet are named Matanzas, Spanish for "slaughters."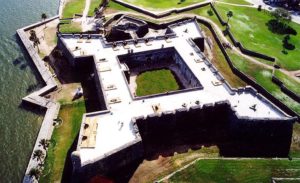 England became the next contender for Florida. Sir Francis Drake attacked and burned St. Augustine in 1586; British pirate Robert Searles sacked the town again in 1668. Spain authorized the construction of Castillo de San Marcos, which began in 1672 and was completed in 1695. Though it's not terribly imposing when viewed from afar, the fortress is solidly constructed of coquina and ingeniously designed to identify threats from any angle. It is a hollow square with diamond-shaped bastions at each corner and only one way in or out.
In 1702 the English besieged the fort for 50 days to no avail. In 1763, as an outcome of the Seven Years' (French and Indian) War, Spain ceded Florida to Great Britain in return for La Habana, Cuba. The British held St. Augustine through the American Revolution, but in 1783, the Treaty of Paris returned Florida to Spain. By 1821 Spain had trouble managing all their New World missions and ceded Florida to the United States. Confederate troops occupied the fort briefly during the Civil War. It was last used during the Spanish-American War as a military prison. The fort served under six different flags, but was never captured in battle. All transfers occurred through treaty and negotiation.
First Spanish Period: 1565 – 1763
British Period: 1763 – 1784
Second Spanish Period: 1784 – 1821
First U.S. Period: 1821 – 1861 (Florida became a state in 1845, same year as Texas)
Confederate Period: Jan. 1861 – Mar. 1862
Second U.S. Period: Mar. 1862 – present
The National Park Service flies the flag of the First Spanish Period over the fort. Men dressed as Spanish soldiers demonstrate firing a cannon from the battlements. Rooms on the ground floor have excellent displays about the many people the fort has housed. Castillo de San Marcos is a terrific course in Florida history.
This slideshow requires JavaScript.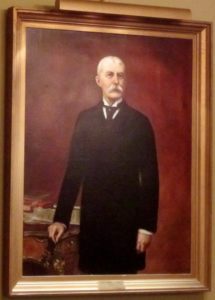 A seventh period of Florida history might well be named the Henry Flagler Period: 1881 -present.  Flagler, co-founder (with John D. Rockefeller) of Standard Oil, and his second wife, Ida, traveled to St. Augustine in 1881 to honeymoon, but found both the trains and hotels inadequate. Realizing the need for a sound transportation system to support the hotel ventures he planned, he purchased short line railroads and modernized them to accommodate heavier loads and more traffic. His next project in St. Augustine was to build the Ponce de León Hotel, now part of Flagler College.  One of the finest examples of Spanish Renaissance architecture in America, it opened on January 10, 1888, and was an instant success.
Success in St. Augustine sparked Flagler's interest in creating a new "American Riviera." He built the Alcazar hotel as an overflow hotel for the Ponce de León Hotel. The Alcazar stands today as the Lightner Museum. Then he built a railroad bridge across the St. Johns River to gain access to the rest of the East Coast of Florida. The railroad led to building his winter residence, Whitehall, and the Royal Poinciana Hotel in Palm Beach. By 1912, Flagler had extended the Florida East Coast Railroad all the way to Key West.
This slideshow requires JavaScript.
Sadly, a personal tragedy marked his time in St. Augustine. Flagler's daughter, Jennie Louise Benedict, died in childbirth in March, 1889. In just one year he built a magnificent Presbyterian church in her memory at the corner of Valencia and Sevilla streets. Flagler, his daughter, and her baby are all buried in the church's mausoleum. On the main plaza is The Cathedral Basilica of Saint Augustine, America's First Parish, founded September 8, 1565. This church was beloved by colonists from Spain's Island of Minorca, who came to St. Augustine when the British were in control. Menorcan descendants will soon celebrate the 240th anniversary of their arrival in the city.
Flagler's Ponce de Leon Hotel became Flagler College in 1968. Twenty-five hundred college students lower the average age of a population dominated by retirees. The old hotel is now one of the most beautiful dorms for freshmen women anywhere.
This slideshow requires JavaScript.
The St. Augustine Lighthouse was fun to explore two years ago. Nina and I climbed all 219 steps to the top and were rewarded with a great view of Matanzas Bay.
A dimension of St. Augustine that I need to explore in the future is its place in Black History. Nina took me to the steps where Martin Luther King, Jr. was refused entrance to the Monson Motel in 1964 and arrested for even trying. On the plaza we also saw the St. Augustine Footsoldiers Monument, a tribute to those who protested peacefully to advance Civil Rights in the 1960s. And here's a New York Times article about traces of the Underground Railroad in northern Florida.
Whetstone Chocolates was a fun place to tour and shop every year. The guides kept me in stitches extolling the delicious chocolate "sea shells they sell by the seashore." Here are even more photos of St. Augustine. Wonderful friends live there!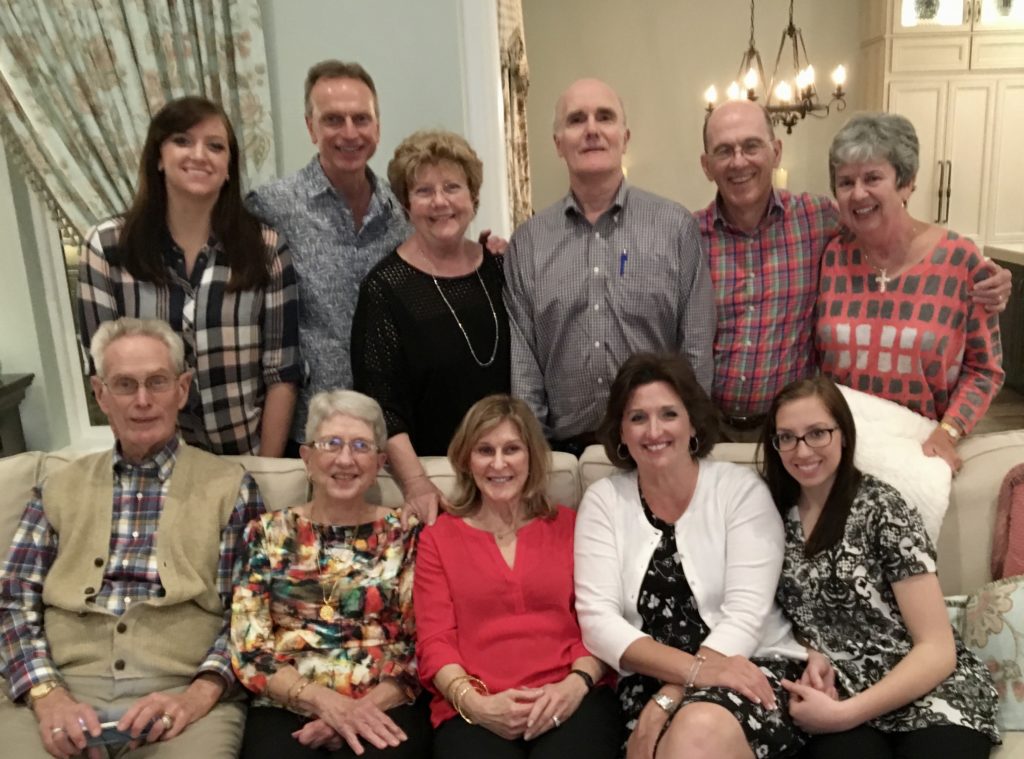 Special thanks to the Rose family for hosting the Cherrydale South reunion in their lovely new home. And more thanks to Nina and Roger their accommodating hospitality, golf and exercise, touring and shopping expertise, and delicious dinners.