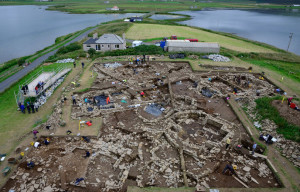 On a narrow land bridge between two lochs in the Orkney Islands of Scotland is one of the most exciting archeological excavations in the world. The Ness of Brodgar is a large complex of buildings dating from 2800 BC and used for a thousand years. It was merely a farmer's backyard until 2002, when the farmer dug up an unusual piece of stone and called in the experts. A geophysical survey by the Orkney World Heritage Site Geophysics Program revealed a huge complex of anomalies "indicative of settlement," covering an area of more than six acres. National Geographic magazine features this site on the cover of the August 2014 issue, calling it "The First Stonehenge." In Neolithic times, when that part of the world was somewhat warmer, the cultural center of the British Isles may well have been in the far north, rather than down by Southhampton.
As part of our travels in Scotland, Maxann, Allene and I visited this site on August 13, near the end of the six-week 2014 digging season. I was particularly excited about going there, because Steve and I had heard Nick Card, the Director, speak at the Smithsonian in December 2012. Shielding myself from the wind in a trailer that served as the site's rudimentary gift shop, I mentioned that I had heard Nick Card in Washington. A 10-year-old girl piped up, "That's my Dad!" In a few minutes she brought him over to say "hello." I was thrilled.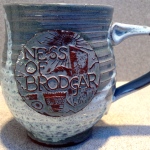 I had read about the American Friends of the Ness of Brodgar and have now contributed to their effort to extend the dig to eight weeks in 2015. And of course, I bought a commemorative cup, made by a Orcadian potter on the island of Harray, who calls himself "Harray Potter." Here are the photos I took at the site and here are two of Nick Card at work.