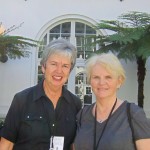 What a joy it has been in the last six weeks to welcome four sets of houseguests. Two couples arrived from the frigid North; the other two, beloved family members. All were very welcome. In late January my friend-from-first-grade Carol and her husband Jim Groom from freezing Warren, Vermont, stopped for a couple of nights during their tour of South Florida. Carol and I enjoyed visiting the Flagler Museum, while Jim got some important repairs done on their camper.  We especially appreciated Jim's barbecuing talents and Carol's enthusiasm for identifying local birds and flowers.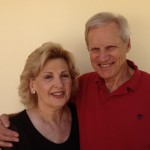 Our next guests were Karen and Joe from balmy Novato, California. Illness in December kept Karen from meeting her grandnieces, so she and Joe re-crossed the country after just six weeks to spend two days with us and two days with David's family in Coral Gables. We enjoyed cocktails on the beach and loved the Israeli Couscous Karen prepared (recipe below). I liked Karen's flowing Sakkas dress so much that she helped me order two for myself. And we started planning our dream trip to Yosemite with them next September.
On the day I returned from taking care of Violet in Boston, Nina and Roger Pitkin arrived for the Quail Ridge Member-Guest golf tournament. They had visited friends elsewhere in the  South and successfully escaped snow and ice storms in Virginia. While the guys played golf, Nina and I visited Nina and Margot Smith (plus their father David and their grandmother Mabell) and Fairchild Gardens in Coral Gables. On Saturday we met friends for lunch and a matinee by the Miami City Ballet at the Kravis Center in West Palm Beach, then joined the guys for a gala dinner dance at the club. Nina and Roger suggested excellent books which have now arrived: Holding on to the Air, an autobiography by Suzanne Farrell for me; Charred and Scruffed: Bold new techniques for explosive flavor on and off the grill  by Adam Perry Lang for Steve.
Just yesterday Steve's cousin Jay Collins, departed. He and his wife Maxann arrived last Sunday from Houston. We hadn't seen them since the fabulous trip to Alaska they organized last August. Maxann left Wednesday morning to visit her daughters in Charlotte NC; Jay departed Thursday for quail hunting in south Georgia. It was great to catch up with the many projects they have undertaken since Jay retired as CEO of Oceaneering a couple of years ago. After dinner we all watched the Academy Awards, but only Maxann and I stayed up to see 12 Years a Slave win Best Picture.
While Jay & Steve played golf, Maxann and I visited the Flagler Museum and did some serious shopping at ABC, the marvelous home furnishings enterprise that originated in New York City and has a store in Delray Beach FL. Maxann has such an amazing eye for finding and coordinating decor items. It was she who persuaded me 30 years ago to buy the beloved parrot that hangs in our Arlington dining room. Now she has rearranged our living room sofas and and helped me select a new throw and pillows. I thank Maxann for bringing more beauty and joy to my life. We even sang some old songs together.
As Steve, Jay and I journeyed to Jupiter for a spring training game between the St. Louis Cardinals and the Boston Red Sox, we managed to bridge our political differences and begin a  serious discussion of social issues that lasted throughout the evening. Jay is a practical problem-solver who always aims for improving processes. A book he recommended to us is Physics for Future Presidents by Richard Muller, a professor at Cal-Berkeley. Our visitors have been so much fun and so stimulating!