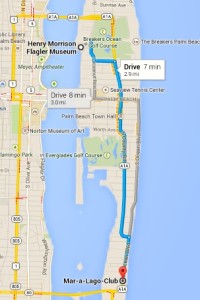 Palm Beach is just twenty minutes from our home in Boynton Beach, Florida. Last week I visited three special places there: the Flagler Museum, Mar-a-Lago and ArtPalmBeach. This map shows the relationship between the town of Palm Beach, where the Flagler and Mar-a-Lago are, and the much larger city of West Palm Beach, where ArtPalmBeach took place. Before Henry Flagler used his Standard Oil millions to build a railroad down the east coast of Florida, Palm Beach was just wild scrub. Now it is the well-manicured home (or second or third home) to some very rich people, plus lots of ordinary folks, too. I know that because last year my friend Honnie got me to volunteer with her at Palm Beach Elementary, an outstanding and diverse public school. Last year I wrote about our Garden Club's visit to the Palm Beach Solid Waste Authority; this year I'm focusing on art and history.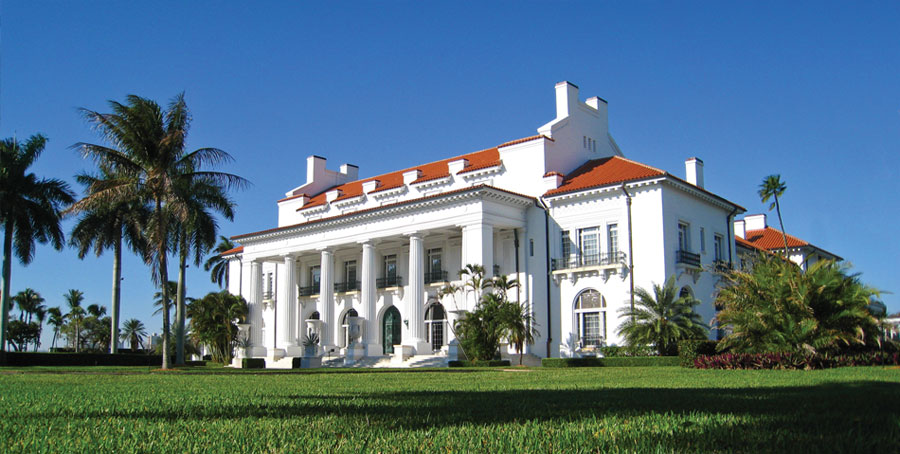 My friend Carol and I visited the Flagler Museum on a beautiful January day. Originally called Whitehall, it is the home Henry Flagler built for his third wife, Mary Lily Kenan, in 1902. It is a monument to the Gilded Age when newly-rich Americans sought to prove their financial prowess and cultural aspirations. White Carrara marble and sculptors were imported from Italy, the ballroom was adorned with chandeliers and gilt, and recent innovations in plumbing and electricity were adopted. The new couple lived here from early January to February 22 each year and often concluded the season with a costume ball. Flagler died of injuries sustained in falling down a flight of marble stairs at Whitehall in 1913, at the age of 83. Mary Lily died four years later. The 55-room mansion is now a National Historic Site open to the public and fascinating to visit. Carol and I loved having high tea in the adjoining pavilion. Here are photos we took.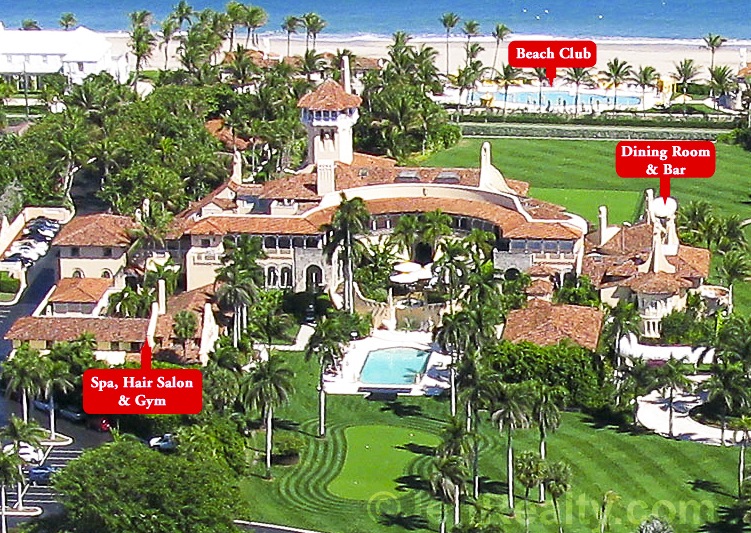 The Quail Ridge Garden Club sponsored a tour and luncheon at Mar-a-Lago (Latin for "sea to lake") the next day. This 114-room villa was built by Marjorie Merriweather Post (then Mrs. E.F. Hutton) from 1924 – 27. The Florida real estate bubble burst after the September 1926 hurricane, but Post kept her local and imported workers employed until the project was finished. The main house, an adaptation of Spanish-Moorish style villas found on the Mediterranean, is anchored to a coral reef with steel and concrete and has successfully resisted hurricanes for 90 years. It has a 75-foot tower with magnificent views, but on a rainy day, we didn't get to climb it.
Our guide, Anthony Senecal, former butler to Mrs. Post and now Club Historian for Donald Trump's Mar-a-Lago Club, has been associated with Mar-a-Lago since 1959. One tale he told: When the Hutton's daughter Dina embarked on an acting career, her father asked her not to use the Hutton name. Instead she chose the name of his foremost competitor and became Dina Merrill. Another story was that Dina Merrill and her half-sisters held out for $40 million and refused Trump's original offer of $25 million. He eventually got it for $8 million. Below is a photo of the new Donald Trump Ballroom in which our guide says he has invested at least $44 million. It is a prime spot for charity events.  Senecal often referred to another Post domicile, Hillwood Estate, in DC, which I have visited several times. My photos are here.
A century after these two great houses were built, Palm Beach attracts visitors from all over the world and is a fertile field for fund-raising and fine art sales. This year my friend Peg joined me at ArtPalmBeach at the Convention Center in West Palm Beach, where 100 galleries had beautiful artworks to sell to well-heeled people. I showed Peg works by Tagliapietra, whom I met last year; together we made the acquaintance of Santiago Medina, a charming sculptor who is also a radiologist. We watched a wonderful video about the sculptor Albert Paley, whose 13 massive sculptures were displayed on Park Avenue in New York City in the summer of 2013. He is remarkably gifted in conceptualizing large works and inspiring dedicated teams to help get them built. Here is a five-minute version of the hour-long video we saw.

And here are my photos of just some of the treasures we found at ArtPalmBeach.