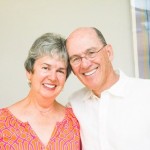 March 19 was my 70th birthday. All five grandchildren came to our Boynton Beach home the previous Sunday for a celebration. I was hoping for verses like Steve got last August, but my tech-wizard kids out-did themselves. They updated the poem they wrote for my 60th birthday and incorporated new photos, punch lines and my favorite Gershwin piece in the video below. Though they have returned to their busy lives, brother Joel and Elisabeth are with us this week for more Florida adventures. With blossoms, banners, balloons, cards, calls, and comments, this milestone birthday was a treat. Nirvana is attained and Happiness is mine! Thank you all!
After watching this video one night, I dreamed of my first date with Steve. My Rice roommate Carolyn had been out with him first, but gracefully yielded him to me. In my dream it was 1963. He was this curly-haired, witty fellow, with a deep voice and a confident stride. As I began to awaken, I was deciding that I liked him a lot. "But," I exclaimed, "I'm 70 and you're only 19!" "No," he replied, "I'm 70, too!" Wide awake now, I reached over and gave the man of my dreams a hug.
My kids are really sweet. In addition to the priceless video, they gave me a lovely scarf imprinted with this photo of a sunrise David and I experienced one morning on Cape Cod.  Seventy is not a speed limit; it's the beginning of bright new days.