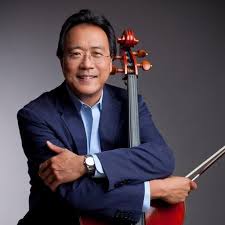 On October 7, Yo Yo Ma celebrated his 60th birthday. Lilli found this wonderful video of Yo Yo at age 7, playing with his sister Yeou Cheng for President Kennedy and former President Eisenhower at the White House. Leonard Bernstein introduces the two children, underscoring how America welcomes talented people from all over the world. Seeing my heroes Bernstein, Kennedy and Ma together in one room made me cry, and reminded me of my own special Night to Remember with Yo Yo Ma.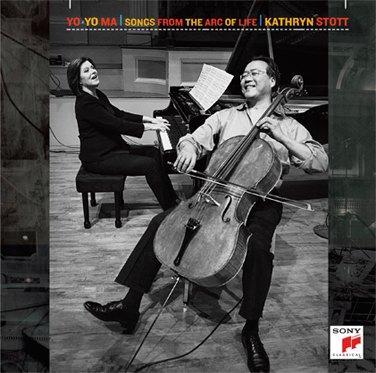 On October 20 PBS Newshour Correspondent Geoffrey Brown interviewed Yo Yo about his new album, Songs from the Arc of Life. The cellist told him that the album, recorded with his longtime collaborator pianist Kathryn Stott, follows the way a person's relationship to music changes with age.
"What do people remember from their childhood, music from their childhood, from first dance all the way through?" he said. "We went through a selection process asking what do people go through when they are teenagers, or what do they go through when they're in adolescence, or middle age, or late age."
"Songs From The Arc Of Life" is full of familiar favorites like "Brahms' Lullaby," "The Swan" by Camille Saint-Saëns and the Franz Schubert's "Ave Maria." One less-well-known selection is from Olivier Messiaen's "Quartet for the End of Time." Messiaen wrote this piece as a prisoner-of-war during World War II, Ma said. "I included that piece particularly because I think the human spirit is incredible. It has the ability to transcend the worst moments."
The piece expresses "infinite love. The glories of the universe," he said. "And that, to me, is something that we all need as humans. That ability to manufacture, to create hope in the depths of despair, because we all go through terrible moments in our lives, and those are the moments when we have to go deep in the reservoir, and find something that comes out, and can give us comfort."
Shortly before this milestone birthday, Strings magazine published a wonderful interview with Ma about intonation, practice and the role of music in our lives.
Yet another video is this one I found of Yo Yo and Los Angeles dancer Lil Buck collaborating in St. Saëns "The Swan." Yo Yo's cello is never lonely.