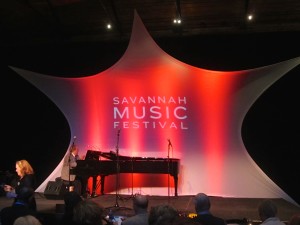 Nine concerts in eight days in two states with many friends–a great way to herald Spring 2015. On March 21, Allene and I attended three events at the Savannah Music Festival: the McIntosh County (Georgia) Shouters (call-and-response singing, hand-clapping, stick-beating, and a shuffling dance involving only the lower body); Chamber Masterworks by Mozart and Mendelssohn, featuring violinist Daniel Hope and pianist Sebastian Knauer; and "Come Rain or Come Shine," the title of a song by Savannah native Johnny Mercer and the name of a wonderful Cabaret performance by three classically-trained Savannah singers.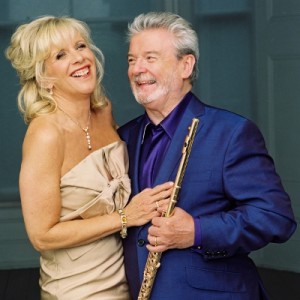 While visiting Allene and Jim in Charlotte NC on Tuesday 24 March, I heard a terrific performance by the Charlotte Symphony Orchestra, conducted by Christopher Warren-Green. This fourth concert in my marathon week featured Sir James Galway playing the Mozart Flute Concerto and with his wife, Lady Jeanne Galway, the Cimarosa Concerto for Two Flutes. The hall was so full of enthusiasm that the Galways played four encores, including a spectacular arrangement of Mozart's Rondo alla Turk and a prayer-like rendition of Londonderry Air that left this former flute player breathless with admiration.
On Thursday the 26th, the Cooleys and I met Steve and several others in Savannah for dinner at the Olde Pink House and more of the Festival. That night we heard Kodo On Earth Tour: Mystery, to us a fascinating new form of artistic expression, complete with swirling dragon puppets.
On Friday, while several played golf at Secession in Beaufort SC, five of us took an afternoon tour of Savannah homes and gardens and found much to admire. Fourteen of us gathered for dinner at 1875 Bistro Pub, then went to hear Lunasa, an Irish band of uilleann pipes, whistles, double bass and guitar. Like the Kodo drummers, this group stretched my musical horizons, but both groups seemed to me over-amplified and devoid of dynamic structure.
I had tickets for three events on Saturday: Marcus Roberts Jazz Trio with Jason Marsalis on drums at 12:30 pm, and at 5 pm, New Orleans Soul and Brass Party: Irma Thomas (impressive at 75) and the Dirty Dozen Brass Band (boring). Marcus Roberts was great; The Dirty Dozen was loud and tiresome, but in between, at 3 pm, was the highlight of the Festival for me: a piano recital by Murray Perahia. Impeccably rendered music by Bach, Haydn, Beethoven and Chopin transported me to the realm of the divine. Though I had heard him on radio and with the National Symphony, this was my first time to hear him in a solo concert. Sixty-seven and at the peak of his powers, he was simply superb.
Beyond the joy of the music, it was the friends, old and new, who made this a very special week. Here are photos that convey some of the beauty of Savannah and the congeniality of the company.  We had a great time last year, too, but this year's experience made us want to go to Savannah every year.