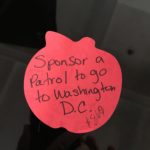 Crosspointe Elementary School is just four minutes away from our home in Boynton Beach. It's a Title 1 school, where over 90% of the students are on free or reduced-price lunch. Though I get to see my grandchildren fairly regularly, I miss seeing children every week, as I did for 35 years in my piano studio. In late January I became a volunteer at Crosspointe, first as a front desk sub, then working one-on-one with first grade readers. On a bulletin board labeled "The Giving Tree," I noticed this apple and asked how much it would cost a 5th grade Safety Patrol to visit Washington DC in May.  The answer:  $869 for airfare, lodging, and meals for three days. Seemed reasonable, but really challenging for many of these kids. They had been holding dances and bake sales, but it was looking doubtful that all would get to go.
Reactions to my Valentine's Day mini-recitals were encouraging, so I decided to use my piano to raise funds for safety patrols. When I visited Arlington, I told a few friends about this project; seeing the African American Museum in DC fortified my aspiration to work for Crosspointe kids. I had already scheduled a paella party for my birthday weekend, so I asked guests to bring donations, instead of presents.
The fun part was looking through my collection of American music for composers with a connection to Washington DC. I selected these five:
 Irving Berlin – 1888 – 1989, born Israel Isidore Baline in Imperial Russia; came to NYC at age 5, lost father at 13. Washington connections: received Congressional Gold Medal in 1954; "God Bless America" sung on the steps of the Capitol just after 9/11.
Leroy Anderson – 1908 – 1975, born in Cambridge MA to Swedish immigrants; mother was church organist. Earned BA and MA at Harvard, spoke 9 languages. Washington connection: served as Chief of Scandinavian Desk of Military Intelligence at the Pentagon when he wrote "The Syncopated Clock."
John Philip Sousa – born 1854 in Washington DC, died 1932. mother was German; father, of Portuguese/Spanish descent, played trombone in Marine Band.  Wrote "Washington Post March." Buried in Congressional Cemetery in DC.
Scott Joplin – 1868 – 1917, born in Texarkana to former slave railroad worker and freeborn mother from Kentucky, who sang and played banjo. No record of his visiting Washington DC, but Joplin made ragtime a national craze. I played his "Solace" for the Crosspointe kids who don't get to go.
George Gershwin – 1898 – 1937, parents, Moishe Gershowitz & Rosa Bruskina met in Imperial Russia, married in NYC. With brother Ira and two other musical siblings, George grew up in Brooklyn. The Gershwin Room at the Library of Congress recreates the studio where he wrote such songs as my longtime favorite, "I Got Rhythm."
Next I practiced, a lot. Titling the event "I Love a Piano," I sent email invitations to friends and neighbors to come for music, wine, and cheese at short recitals on March 30 and 31. Each recital began with Irving Berlin's "I Love a Piano," in which I led fellow Quail Ridge Chorus members in singing a piece we were preparing for our annual concert on April 6. Then I told a little about each composer, played the piano pieces listed above and led a sing-along of "America, the Beautiful," "Washington" by Ernest Emurian, and "God Bless America." It worked! Everyone dug deep. I sent this message to all who gave:
It was such a joy to perform American music for many of you last week and to collect your generous checks. Counting my family's contributions in lieu of birthday presents and donations from dear friends in Northern Virginia, forty-eight checks were received, totaling $6,090. Crosspointe Elementary School is overwhelmed by your generosity and very grateful. The funds we raised are enough to pay the way to Washington for 7 patrols! Since every family has to pay something and school events have raised money, too, your contributions will actually assist even more kids. The final payments are due next Tuesday, April 10, so I'll let you know how many safety patrols actually get to go to Washington DC, May 16 – 18.
Good news! All forty patrols get to go! Look for an update after they return home on May 18. Piano for Patrols could become an annual event. Politics were not mentioned, but one guest remarked aloud that immigrants surely had made valuable contributions to American music. Indeed. Look at all the countries represented by Crosspointe students and imagine the contributions they, too, will make.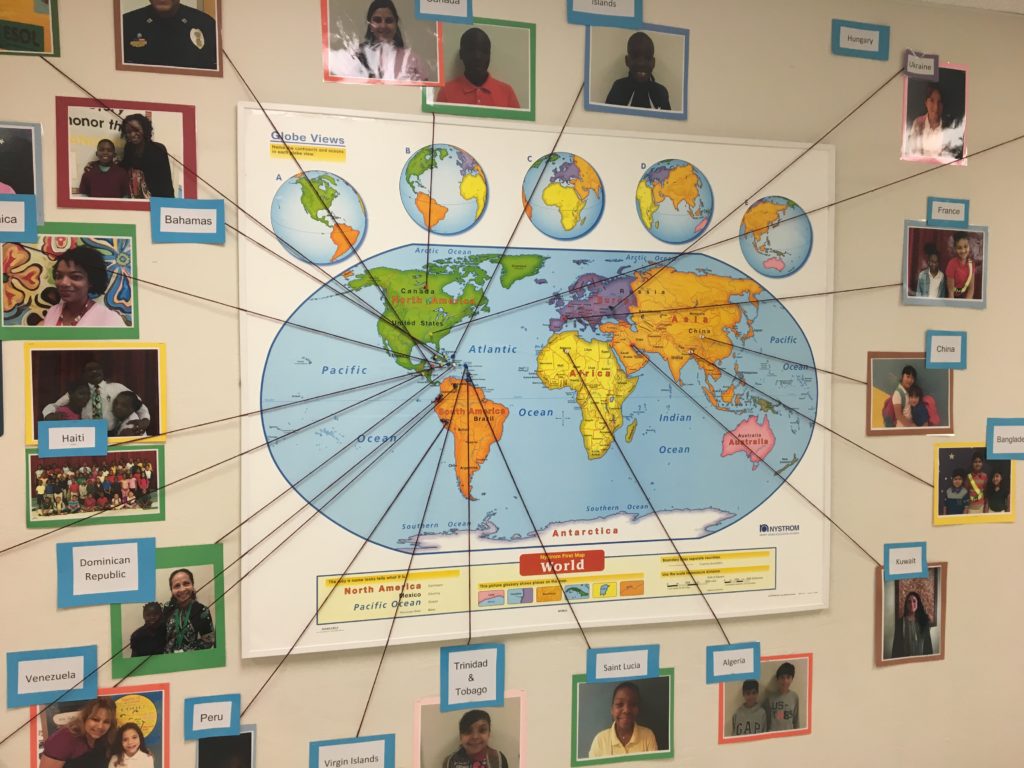 The four points of Crosspointe's compass are Respect, Honor, Integrity, and Character.