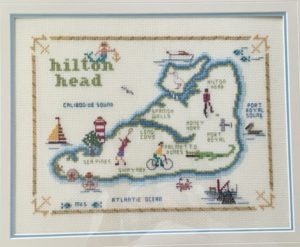 My family's love affair with Hilton Head began with a vacation in September 1976. Lilli and David loved the beach, Steve loved the golf, and I loved the natural beauty and thoughtful development of the island. As you can see in my cross-stitch, it's a large shoe-shaped island, geologically part sea island and part barrier island. The lighthouse is in Harbour Town, part of Sea Pines Plantation, where in 1985 we bought a share of a villa. After planning an annual schedule with five other congenial Northern Virginia partners, we spent two or three weeks there each year for twenty years.
Last week I visited Harbour Town for the first time in twelve years and went by our old villa, delighted to see it in fine shape, with lots of people in the nearby swimming pool. We had had such fun there. As soon as I saw the circle opposite our place, I vividly recalled Shelby learning to ride her bike there. Lilli and David were already out on the miles of bike paths in Sea Pines, exulting in safe freedom.
From the time he played in the sand as a two–and-a-half-year-old, David took advantage of Hilton Head's sports opportunities. Besides biking and swimming, he and his friends tried golf and surf-boarding. One spring vacation he brought three other members of his Yorktown High School tennis team.
This slideshow requires JavaScript.
Lilli enjoyed bringing her friends along, too. Early photos are missing, but one Labor Day in the late 1990s, when Shelby was already in classes at Emory, she and David met us there and had fun in-line skating and riding a bicycle built for two.
In low seasons or when we were too busy to make the 600-mile drive from Arlington to Hilton Head, Steve's mother Marie reserved time at the villa for her sister Ruth and other friends from Odessa, Texas. Here they are, when Marie (second from right) was younger than I am now.
Shelby delighted in visiting Hilton Head with friends from Emory on spring vacation, a drivable distance from Atlanta. Later, when she was in Law School at the University of Virginia, she took Sean to Hilton Head. Steve arranged for him to play golf with some of his friends. One of them exclaimed to Sean, "Your girlfriend's family has a place here and she's cool with you playing golf? Marry her!" He did. Sean and Shelby were with us on our last visit to the Hilton Head villa before we sold our share in 2005. Sean demonstrated his grilling prowess and Shelby introduced us to their friends from Australia.
This slideshow requires JavaScript.
Recent history of Hilton Head from Wikipedia:  The beginning of Hilton Head as a resort started in 1956 with Charles E. Fraser developing Sea Pines Resort. Soon, other developments followed, such as Hilton Head Plantation, Palmetto Dunes Plantation, Shipyard Plantation, and Port Royal Plantation, imitating Sea Pines' architecture and landscape. Sea Pines however continued to stand out by creating a unique locality within the plantation called Harbour Town, anchored by a recognizable lighthouse.[32] Fraser was a committed environmentalist who changed the whole configuration of the marina at Harbour Town to save an ancient live oak.[11] It came to be known as the Liberty Oak, known to generations of children who watched singer and songwriter Gregg Russell perform under the tree for over 25 years.[33] Fraser was buried next to the tree when he died in 2002.
This slideshow requires JavaScript.
Our friend Tom Paskins, who lives full-time in Hilton Head, invited Allene, Kate and me to a meeting of the World Affairs Council of Hilton Head on October 13, 2017. Along with about 500 other people we assembled at the First Presbyterian Church of Hilton Head to hear an outstanding lecture on the European Union by Anand Menon, Professor of European Politics, Kings College, London. After a oceanside lunch, Tom graciously agreed to take us to Harbour Town see my old haunts. Someone named Murray owns the villa now, but I loved recalling joyous family gatherings at 269 Stoney Creek, Sea Pines Plantation, Hilton Head Island, South Carolina.