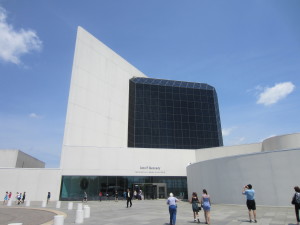 Designed by I.M. Pei, this building reflects the style and optimism of John Fitzgerald Kennedy. Stymied by a recalcitrant Congress and assassinated in his first term, JFK was able to accomplish only a few of goals he had set: establishing the Peace Corps, ramping up space exploration, and revamping attitudes to people with intellectual disabilities. But Jack, 43, and Jackie, 31, brought youthful vigor and exquisite taste to the White House. Aided by eager experts, the Kennedy administration initiated thoughtful discussions and laid the groundwork for Lyndon Johnson's achievements in civil rights and economic equality.
My recent visits to Presidential Museums have enabled me to reflect on the impact Presidents  have on people's lives. I was too young to vote for Kennedy in 1960, but his campaign attracted me to the Democratic Party. During Freshman Week at Rice in 1962 I heard him give his famous speech on going to the moon. When I saw it played at the Library, I exclaimed "I was there!" to a couple of startled onlookers. Here it is with thoughtful commentary that places it in the context of Rice and Houston.
On November 22, 1963 my friends and I were preparing to present an extra-curricular musical, "The Boyfriend." Carolyn's parents had driven from Tucson to see her play the lead. Steve played three bit parts. Elizabeth was the director and I played the piano. Kennedy had been in Houston the night before. When we heard the shocking news from Dallas, we canceled our final rehearsal and rescheduled the performance. Movie theaters closed their doors, too, while we all watched the drama unfold on small black and white TVs. This footage was also displayed at the Museum, but I couldn't watch much of that.
The video that brought tears to my eyes was of Kennedy's visit to Ireland in June 1963. The Irish people were already in love with him; he fully reciprocated their love and promised to come back the next spring. That was not to be. All of Ireland mourned when he died. We noticed traces of his lasting influence when we traveled there in 2000 and 2006.
More photos from the Kennedy Museum are here. Please share your memories of the Kennedy years in the Comment box below.