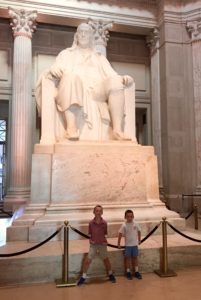 I love taking my grandkids to museums. This summer I've visited museums designed specifically for children in Boston, Miami, and West Palm Beach, and two others, the Franklin Institute in Philadelphia and the BioDome in Montreal, which were established for general audiences, but thronged with kids. Children's museums were unknown when I was a child. The only museums that I visited before college were the Panhandle Plains Historical Museum in Canyon, Texas and Woolaroc in Bartlesville, Oklahoma. The exhibits were interesting, but lacked the interactive features of today's museums. During our 47 years in Washington, the Smithsonian Museums gradually added exhibits aimed at children, such as the Insect Zoo in the Museum of Natural History and the shuttle to climb on at Air and Space. The annual Smithsonian Folklife Festivals, with foods, music, and crafts of featured countries, were particularly engaging.
Smithsonian museums were a blessing to my children and admission-free. The Children's Museums we visited this summer are relatively expensive; annual memberships make sense for residents. And grandparents, I believe, should balance museum visits with outdoor experiences in parks, gardens and nature preserves, not to mention the beach!
The Franklin Institute in Philadelphia was a big hit with Shelby, Stephen, Thomas and me in June. The kid-friendly exhibits so absorbed us for over three hours that we neglected to take many photos. Two they really loved were the climbing maze and the Brain. Truly remarkable were the activities staffed by people who had a gift for engaging children. One volunteer showed how to make paper and let them take a piece home; another demonstrated liquid nitrogen, and cleverly showed, whoosh, why that was not a take-home.
On the Fourth of July, Steve and I took our two grandsons to the South Florida Science Center and Aquarium in West Palm Beach. At ages 8-1/2 and 5-1/2, they dived right into the special crafts offered that day, reveled in the gross body functions exhibit, and returned in the afternoon for an astronaut show in the Planetarium.
This slideshow requires JavaScript.
Boston Children's Museum has a great location on the Inner Harbor near downtown. A re-enactment of the Boston Tea Party occurs regularly on a period sailboat just across the water. A shop in a giant, old-fashioned Hood's milk bottle sells milk shakes and offers a pleasant place to lunch outdoors. On August 23 I took Violet and her friend Elizabeth, both 7, using half-price coupons from the local public library. The museum was a very popular place during a week when most summer camps had closed. I heard many different languages spoken and met one family from Stuttgart, Germany.
This slideshow requires JavaScript.
Miami Children's Museum captured the attention of Margot and Nina on September 10. They are 2-3/4-years old now and jumped right into the activities. After a 15-minute performance by two rather silly adult actors wearing animal masks, we climbed to the top of a two-story castle, but the girls stayed away from the scary twisting tunnel going down. They spent the most time shopping for groceries in a market just their size. I spent my time restocking empty shelves. There were many buttons to push for audio video displays, but most didn't work. They loved fishing for magnetic fish with excellent small poles. After three hours of fun, Nina fell asleep in the car on the way home.
This slideshow requires JavaScript.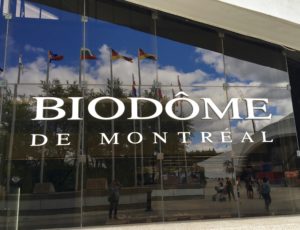 Violet insists that the huge BioDome in Montreal is not a Children's Museum, but almost every adult we saw had at least one child in tow. We walked through four North American ecosystems: a tropical rainforest, the maple forests of Canada, the Gulf of St. Lawrence, and the Labrador Coast. It was fun for Violet and educational for all of us.
The museums we saw this summer recalled previous happy museum encounters–the Perot Museum and Museum of Fine Arts in Dallas with Stephen and the Toy Museum and Haus der Natur in Salzburg with Violet. Long ago in the Texas Monthly, I read an article by Prudence MacIntosh about taking kids to museums titled "Someday You'll Thank Me for This." We've started early, so my grandkids have shown only enthusiasm so far. Maybe someday they will read this post and understand how much I enjoy sharing museums with them.