Scottish Highlands & Islands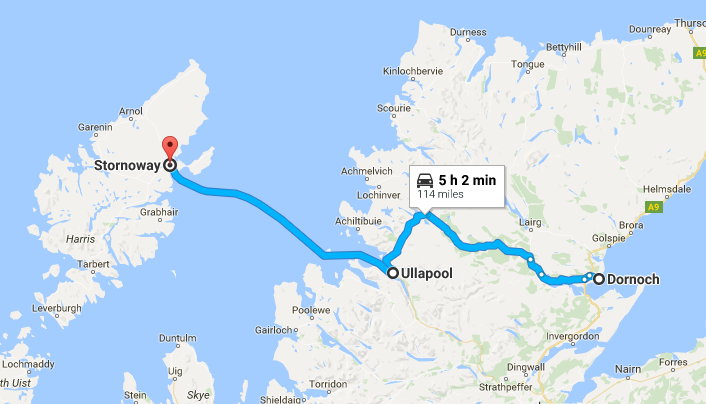 After 3 days in Dornoch, Kate, Allene and I were ready for more adventure. Steve drove us two hours across the Highlands to Ullapool and left us at a hotel called Ceilidh Place. Ceilidh (KAY-lee) is the Scots' word for dancing and having fun. The winds outside were too strong for me (even through I grew up in windy West Texas) to explore the town as Kate and Allene did, but I found a lonely piano and cheered it up by trying to compose a song incorporating both Ullapool and its retro, Loopallu.
This slideshow requires JavaScript.
The next morning, in gale-force winds and high seas, we boarded an enormous Caledonian-MacBrayne ferry (700 people, 120 cars) for a three-hour trip across the Minch to Stornaway on the Isle of Lewis. The Minch is the treacherous waterway between the Scottish Highlands and the Isle of Lewis. It is believed to be the site of the biggest meteorite ever to hit the British Isles (Wikipedia). The waves drenched the windshield of the observation deck on the highest level of the boat. Passengers were unusually quiet. At first it was exciting; then I was ready to get back on dry land. Allene and I had visited the neighboring island of Harris in 2012 and were eager to return to the Outer Hebrides.
Coincidence:  my Rice classmate Will Hamilton and his wife Barbara visited Ullapool the same day. Will has both an excellent camera and an excellent eye and snapped this photo of a rainbow in Ullapool harbor at 8:36 pm on August 8, just 10 hours after we had left it in a wicked storm. Will, we suffered for you to get that picture!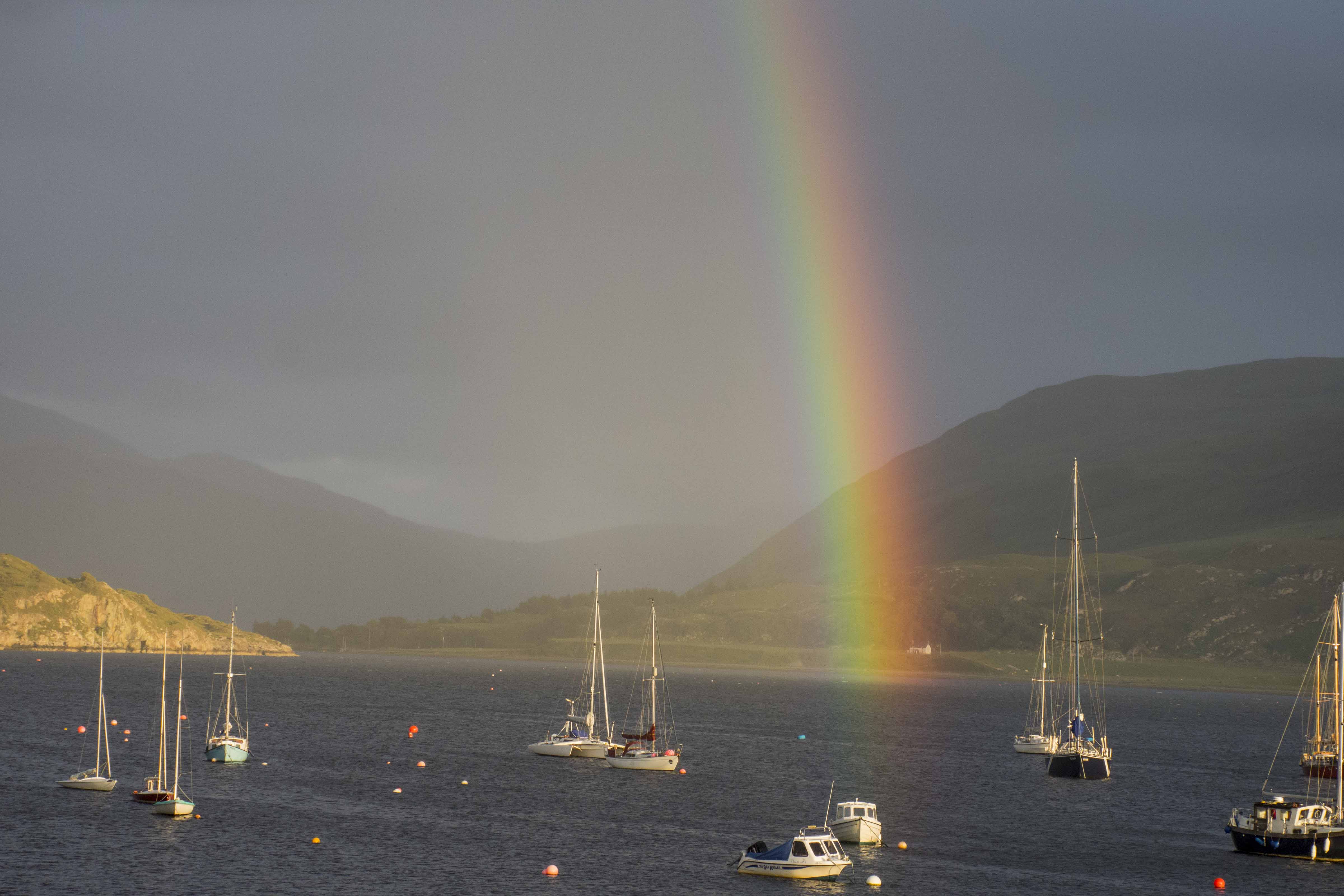 Back in the 1830s Felix Mendelssohn's German audiences considered the Outer Hebrides wild, exotic and intriguing. Inspired by his visit to Fingal's Cave on the island of Staffa in the Hebrides, he wrote a concert overture he called The Hebrides. It's been popular ever since. We found the Isle of Lewis tame and civilized, but as intriguing as it must have been to Mendelssohn. The island has 683 square miles for its 18,500 people. We hired a driver who showed us most of the main sights in one afternoon.
In the tiny village of Arnol, we explored the Black Houses, traditional dwellings built to about 1900, where animals and people shared space, acquiring the kind of immunities that Charles Mann highlighted at Chautauqua. They were drystone, double-walled buildings with thatched roofs held in place with nets and heavy stones. Peat fires burned all day and night; the smell lingered. Spinning wheels, knitting, weaving and animal care kept the occupants busy.
This slideshow requires JavaScript.
Further along we climbed up to Dun Carloway Broch, a stone roundhouse of the kind built 2300 to 1900 years ago. Constructed of stone and precious timber, they could house several families and were probably built to reflect the prestige of their inhabitants.
Later we delighted in walking among the Callanish Standing Stones, another example of the ancient worship places Allene and I had first encountered in Orkney.
This slideshow requires JavaScript.
We dined on delectable local mussels in a restaurant with a view of these brightly painted stores.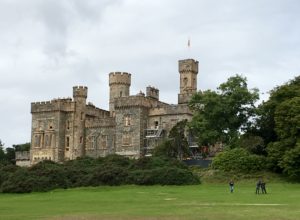 The following morning, we walked to Lews Castle, which Donald Trump once tried to buy* (see note below). The castle, under restoration, was closed, but  we discovered an adjacent Smithsonian-class museum that had just opened–friendly, interactive and informative. There were even costumes for kids to try on.
Before the afternoon ferry back to Ullapool, I had time to visit a lovely shop owned by a friend of Joe Cape's sister. Joe is from Stirling, Scotland. He lived with us and attended Yorktown High School during the 2002-03 school year. His sister Ruth lived on the Isle of Lewis recently and made friends with Rosie who owns her own shop that sells Harris tweeds. I bought a lovely tweed toiletry bag from her. On further walks we enjoyed the wooden sculptures and vivid flowers that were all about the town.
This slideshow requires JavaScript.
The return ferry trip to Ullapool was sunny and calm. Jim Cooley met us at the sunny harbor and drove us back to Dornoch by way of beautiful Rogie Falls. Thanks to Kate's planning and Steve and Jim's chauffeuring, we had a marvelous adventure through some of Scotland's most dramatic vistas.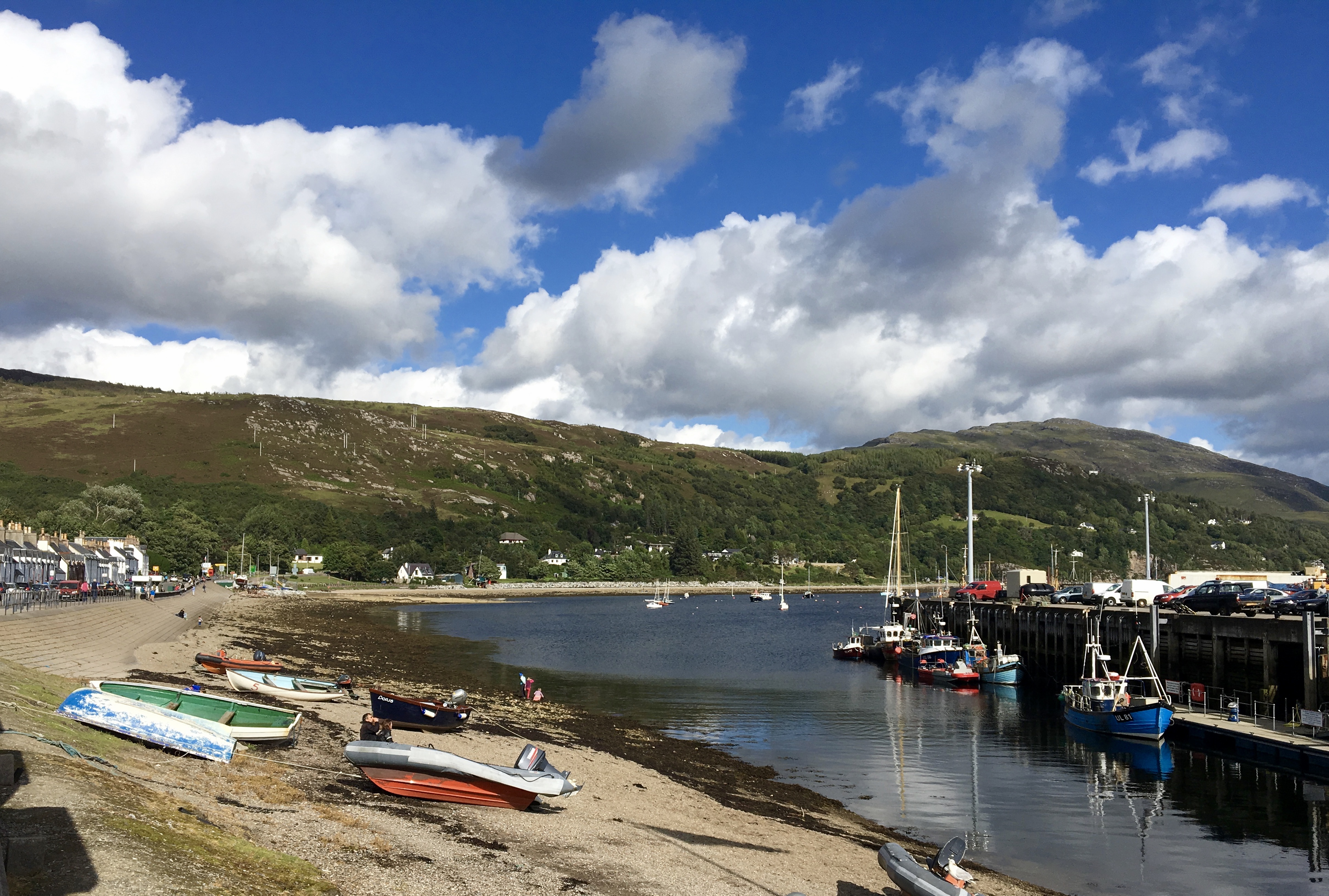 *Note: Donald Trump's mother, Mary, was born in Tung on the Isle of Lewis. She emigrated to New York City in 1930, where she worked as a maid, then married Trump's father. Our driver told us that whenever she visited Lewis, her husband stayed home, but shipped over a large Cadillac. "Everyone gave that car a wide berth; otherwise they ended up in the ditch," said our driver. She, and indeed, everyone who heard our American accents apologized for their beloved island being the birthplace of the mother of someone they feared and deplored.