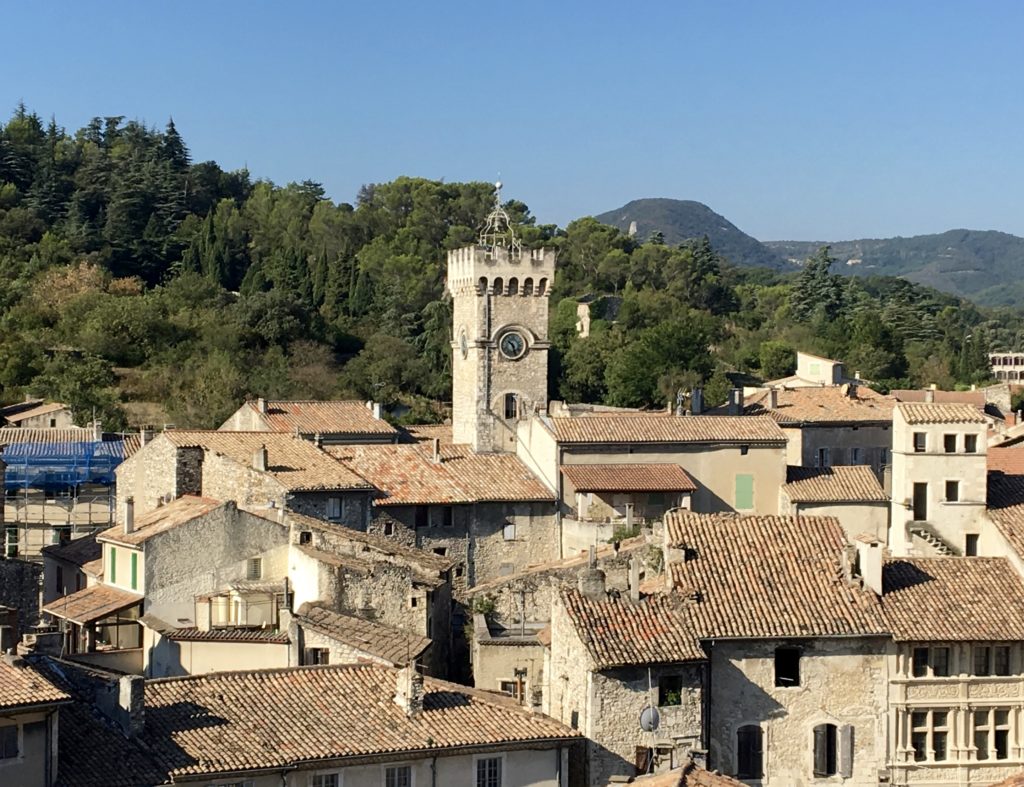 Three historic river towns and a steam train ride through the mountains enriched our weekend. Perched on a hill overlooking the Rhône, Viviers is a charming, well-preserved medieval town. Our walk there on Saturday morning was both history lesson and good exercise. St. Vincent Cathedral, built in the 12th century in the Romanesque style, incorporated an even older tower. In the 16th century, a flamboyant Gothic apse was added. St. Vincent's is the smallest active cathedral in France and its light interior has a pleasant intimacy. Gobelin tapestries depict scenes from the Bible. It is a venue for organ concerts.
This slideshow requires JavaScript.
Tournon-sur-Rhône:  we took a look at the suspension bridge named after the father of suspension bridges, Marc Seguin, 1786-1875. With the help of his brother in 1824, Seguin erected the first bridge suspended from cables made of parallel wire strands, introducing to the world a new method of constructing bridges. Then we strolled through the peaceful streets of Tournon.
This slideshow requires JavaScript.
An old-fashioned steam train, Train de l'Ardèche, took us through the lovely gorges of the Ardèchoise mountains near Tournon, a route built 120 years ago to bring timber from the mountains to the river. We watched with admiration as only two men swung the engine around on a turntable for the return trip. Steve remembered the railroad turntable he saw as a child in Sweetwater Texas.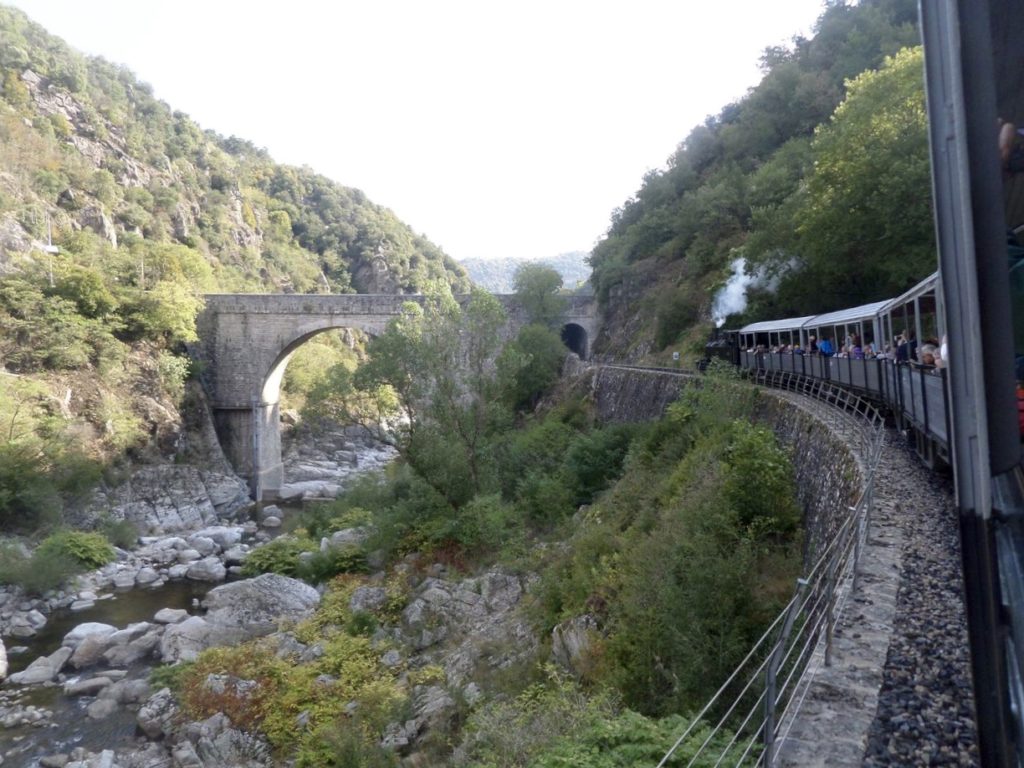 On Sunday afternoon we took a walking tour of Vienne, another multi-layered historic town on the Rhône. The Viking Daily prepared us:
Julius Caesar transformed this once-Celtic region into a Roman colony in 47 BC. Sitting at the junction of the Rhône and Gère Rivers, Vienne  became a strategic outpost for the empire, as well as a crossroad of commerce. As it grew prosperous over several centuries, it evolved into an intellectual and a cultural hub.

Most of its Roman monuments are still intact today:  the well-preserved Temple of Augustus and Livia, ruins of the old circus (oval track used for chariot races), and thermal baths. The centerpiece of Vienne is the 13,000-seat Roman Theater on the slopes of Mt. Pipet; the arena is said to have been buried from the 4th century to 1922, when archaeologists uncovered its magnificence.

This slideshow requires JavaScript.
During the first centuries AD, the city embraced Christianity. It was later the target of multiple invasions during Europe's Great Migration period. Over a period of 300 years, Burgundians, Romans, Franks, Lombards and Moors sacked the city and called it their own. Eventually, after being proclaimed the capital of Burgundy, then falling within the kingdom of Provence, and later reverting to the Roman Empire, the steadfast archbishops surrendered their territory to France in 1449. Christianity's legacy remains in Vienne's Cathedrale of St. Maurice, five monasteries and many churches, chapels and convents.
This slideshow requires JavaScript.
I really appreciated how Vienne, along with Viviers and Tournon, combine preserving the past and enjoying the present. Vive la France!
This slideshow requires JavaScript.