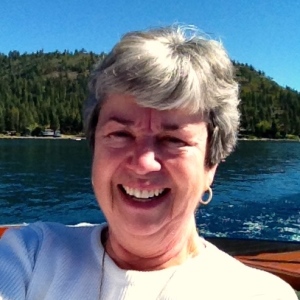 I grew up in the family of Patti, Will, Joel and Harry Kirkpatrick in Phillips, Texas, 50 miles NE of Amarillo. My mother's piano studio was in my bedroom. From 7th to 11th grades, I studied piano with Hurshelene Journey-McCarty at Frank Phillips Junior College and practiced and performed a lot. By my senior year in high school, my curiosity about the wider world eclipsed my passion for music. I had fallen in love with Rice University when we took my brother Joel there in 1954, so I applied to Rice, even though it had no music department at that time. Majoring in history satisfied some of my curiosity. I also took many English literature courses, plus interesting courses in biology, anthropology and economics, French and German.
At Rice I fell in love with Steve Smith of Odessa. We married a week after graduation and moved to Cambridge, where Steve attended Harvard Business School and I worked in a book publishing firm. In 1968 we moved to Washington, DC for Steve's job in the Pentagon and I got a job as a researcher for McKinsey & Company, management consultants.
Shortly before my daughter Lilli was born in 1971, I left McKinsey. In 13 months we had experienced several big changes: the death of my father, Steve joining a new business venture, my leaving the business world, moving to the suburbs, and having our first child. It was good to have a few months at home to adjust, but Lilli was an easy baby and in a few months I was ready to take on a new project.
My retirement fund yielded enough to buy a used grand piano (from Ernest Emurian, but that's another story). After 5 years of lacking a piano, I started practicing again with the windows open. Neighbors asked for lessons. I soon realized I needed to learn a lot more about teaching. In 1975 I enrolled in under-graduate pre-requisites at American University and studied with Alan Mandel. In 1979 I began studies with expert independent teachers– Louise Kupelian, Maryen Herrett and Suzanne Guy. In 1992 I was able to commit to graduate studies at Catholic University, where I studied with Thomas Mastroianni, Barbara Maris and Marvin Blickenstaff. Finally, 30 years after my BA, I earned a Masters in Piano Pedagogy from Catholic in 1996. For over 35 years in my piano studio in Arlington, Virginia, I taught hundreds of wonderful students, many quite exceptional. Presently retired from active teaching, I continue to live con brio.
In the 1980s volunteer work began to claim my time and energy, first at Taylor Elementary School and Cherrydale United Methodist Church, then Northern Virginia Music Teachers Association and Virginia Music Teachers Association. I served on committees of the Music Teachers National Association for several years, and was named an MTNA Foundation Fellow in 2007. Meanwhile, it was a joy to join multiple book groups, to teach English as a Second Language, and to participate in a Great Decisions Discussion Group and the Arlington Interfaith Council.
Though I have been a faithful church-goer for many years, I still struggle with doubts. I wrote these Ten Reasons to remind me of the positive aspects of Christianity. I keep rewriting what I believe about the world and my place in it. Here is my latest Credo:
I believe in God as the Spirit beyond our expanding Universe and in Jesus Christ, the prime example of the kindest, fairest, most courageous way to live. Christ taught us to love and forgive and by his Grace, we are forgiven. For daily guidance I rely on Micah 6:8: "What does the Lord require of you but to do justice, love kindness and walk humbly with your God."

I believe that we are united by the desire to live in harmony with nature and our fellow human beings. We must continually strive to be honest with ourselves and others and recognize that there are many paths to Eternal Truth.

I have faith that by God's grace and through prayer, I can lead an honorable life and have a positive effect on other people.

Martha Smith, November 12, 2013